Joseph DiCaprio
(518) 377-3123
jdicaprio@niskyschools.org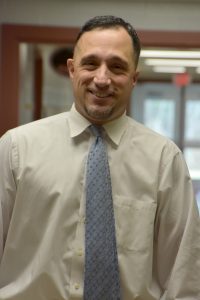 To the Rosendale School Community:
It was with honor and excitement that I assumed leadership of Rosendale Elementary School in 2015. I look forward to fostering the greatest academic and social growth for all of our students in a manner conducive to 21st Century Learning and higher order thinking skills across all content areas. The excitement, passion and positive attitude that exists in our children as learners each and every day, drive all of our school community stakeholders to work in partnership with one another to make education the top priority at our school.
Rosendale Elementary School consists of approximately 375 students, housed in grades kindergarten through fifth grade, and we also include two skills classrooms. The robust and engaging delivery of instruction and curriculum is implemented through an extremely talented, dedicated and hard working team of teachers, teacher assistants and support staff that truly put the needs of our students above all else. Our Parent/Teacher Organization has a long-standing tradition of positive involvement and support for our school. Their efforts continually help make our school experience even better for the students over the years.
I can say without reservation, that our children will achieve great things this year, and I am excited to supplement our means of communication with a school Twitter page to celebrate these successes. I encourage you to follow Rosendale School on Twitter to keep up to date on student recognition, upcoming events and district happenings.
The greatest hope for a better future is through the education of our children, and our mission at Rosendale is to provide your child with the best possible educational experience one could ever receive. Thank you for entrusting us with that mission, and welcome to Rosendale!
Sincerely,
Joseph R. DiCaprio
Principal