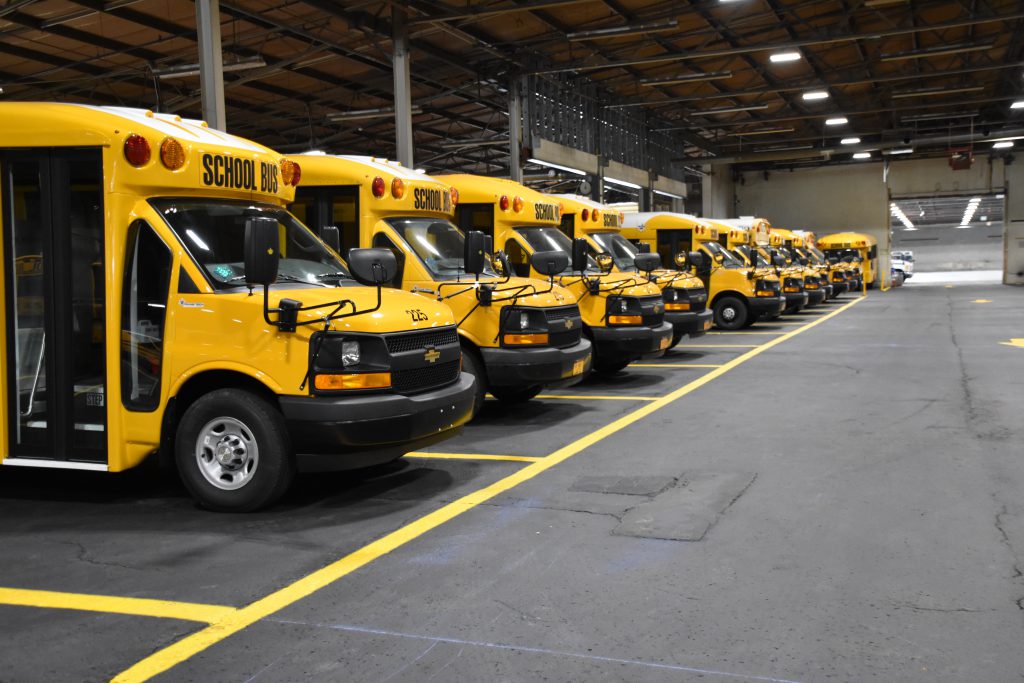 We proudly transport Niskayuna students to and from school, athletic events, and other activities safely and efficiently.
Important Transportation Information as We Open the 2020-21 School Year
Please note the following items related to student transportation as we begin the 2020-21 school year. We thank you for your patience and cooperation.
Please be at the bus stop 10 minutes before the assigned time.
Due to this year's scheduling constraints, transportation will be provided from a single location and to a single location for each student for both the morning and afternoon. (We are unable to provide transportation to different locations on different days.)
Any requested changes will require one week to take effect. This means that any changes requested now will not be effective until the second week of school.
All students must wear a mask or face covering when riding the bus. If students do not have a mask or face covering, the driver will provide one.
Students should sit in the seats assigned by the bus driver. Only students from the same household can sit together.

Even in a typical school year, we know that transportation delays are a normal part of the beginning of school. While we ask you to have your child(ren) a the bus stop 10 minutes ahead of the, please allow for the potential that buses may not be on schedule at the beginning or end of the day, particular at the start of the year
Frequently Asked Questions About Student Transportation
Read answers to the most commonly asked questions regarding student transportation. FAQs can be found here.
The Rules of Riding the Bus
The rules for riding the bus should be read by all parents and discussed with their children. It should be emphasized that riding the bus is a privilege, and that the privilege can be revoked if students do not follow the rules. If all the rules are followed, the school bus is one of the safest vehicles on the road. Read rules of riding the bus.
School Closings/Delays
The district uses several information channels to inform parents and community members when school is closed, delayed, or closing early due to inclement weather and/or other events that warrant a schedule change. It is best to rely on more than one source of information when it comes to weather-related announcements. This is particularly true in situations that involve power outages, which can affect the district's ability to send electronic notifications. Read more about school closings and delays.
Note about transportation to private/parochial schools
Please be advised when the Niskayuna Central School District is closed for holidays or during school recess periods we will not be providing transportation to non-public schools.