Project will result in Critical Health & Safety Work and Programmatic Improvements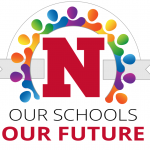 On Tuesday, Feb. 9, voters in the school district approved two capital project propositions that together will result in more than $79 million in improvements across the district. Vote results are as follows:
Proposition #1: Yes – 1,693 / No – 717 (70% in favor)
Proposition #2: Yes – 1,554 / No – 858 (64% in favor)
The facilities improvements include: extensive renovations and classroom modernizations at both middle schools and a classroom addition at Iroquois to enable program improvements and the new grade-level configuration of grades 5-6 at Van Antwerp and grades 7-8 at Iroquois; Health, safety and infrastructure work identified through a survey of the condition of district buildings; and substantial investment in the outdoor athletic complex, including a new track, field upgrades and accessibility, parking and traffic flow improvements.
The next step is more detailed design work so that the project can be submitted to the State Education Department for approval. The current timeline calls for the improvements to be completed in phases from 2024 to 2026.
Updates will be provided on this page throughout future planning and construction.
Recent Updates
Plan adds the full-time equivalent of approximately 17 staff members to support students next year The district's plan for the federal coronavirus relief funds it has been allocated will focus on extra academic support, social and emotional wellness, and growth and enrichment opportunities for students....