Principal Luke Rakoczy

lrakoczy@niskyschools.org
(518) 370-1243
Welcome to VA! My name is Luke Rakoczy and I truly enjoy being a middle-level educator. Young adolescence can be a challenging time for students as they adjust to a variety of developmental changes (social, emotional, physical, cognitive, etc). My goal is to work with our excellent faculty and staff to provide support, instruction and experiences that meet the developmental and academic needs of students. We also try to have fun doing it! I am very proud to work in a school where students come first and the unique characteristics of this age are appreciated.
I have been the principal at Van Antwerp since 2005, but began my career as a social studies teacher in the Guilderland School District. My administrative career began as a social studies supervisor in the Rotterdam-Mohonasen School District. I obtained my undergraduate and graduate degrees from the University at Albany, where I was an All-American and Academic All-American athlete.
It is our sincere hope that we can partner with families to the benefit of our students. There are many opportunities to volunteer or assist with school events and activities. Please visit our PTO website to contact our PTO presidents and find out how you can get involved!
Assistant Principal John Moskov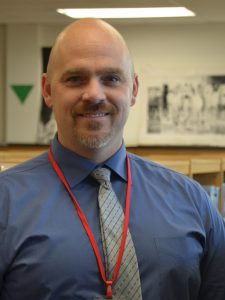 John Moskov was appointed as the Van Antwerp Assistant Principal in July 2018.
Prior to his current position, Moskov served as the director of Pupil Personnel Services and as an assistant principal at Niskayuna High School for two years. He was a longtime special education teacher and coach at Niskayuna High School before becoming an administrator. Moskov has led a variety of school culture and safety initiatives and helped establish partnerships with area schools and organizations to benefit students.
He has a bachelor's degree from the University at Albany, a master's in Education from The College of St. Rose and his certificate in educational leadership from the State University of New York at Stony Brook.
In addition to special education, the pupil personnel services role includes leadership for school counseling, social work, speech, occupational and physical therapies, and school psychologists.