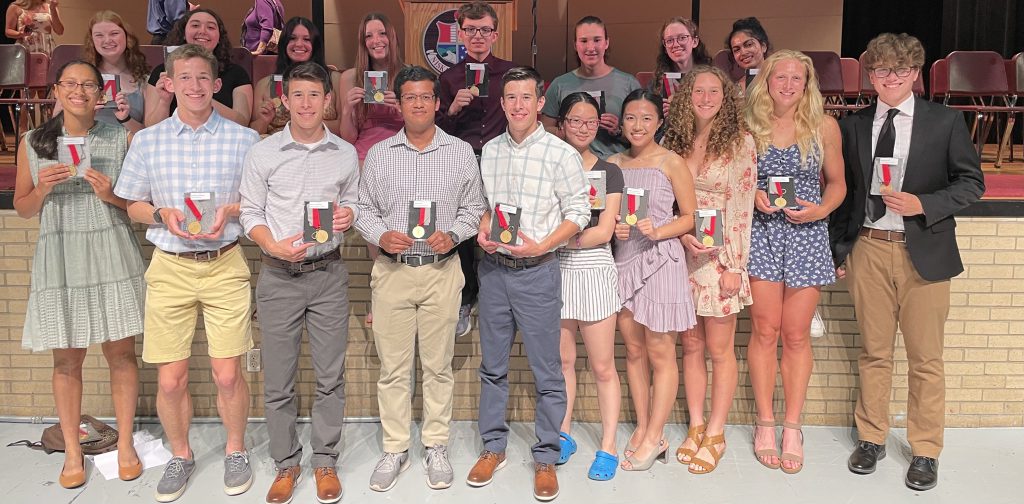 Front Row L-R: Sophia Barnes, Daniel Malatesta, Andrew Stiles, Sumit Sahoo, Matthew Stiles, Isabella Peng, Samantha Cerezo, Sophia Boler, Heather Schmidt, Peter Bidoshi. Back Row L-R: Ella McDonnell, Baylee Fingerhut, Josephine Calareso, Elizabeth Ward, Duncan Wall, Rebecca Schechter, Kaitlyn Pack, Ryana Sarcar. Not pictured:  Natalia Malcevic and Carrie Watkins.
Twenty one Niskayuna High School seniors received the Medal of Academic Excellence, one of the highest honors a student can receive at the end of their high school career, at Senior Awards Ceremony on Thursday, June 2.
The Niskayuna Medal of Academic Excellence is awarded annually to those students in the graduating class who have demonstrated the greatest promise as students, having given real evidence of intellectual curiosity and inquiry, of persistence and thoroughness of effort, and of developed powers of accurate thinking and effective expression.