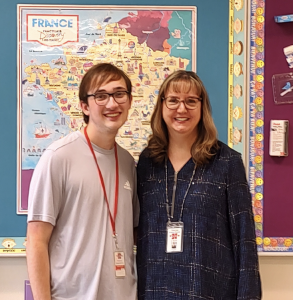 Former Iroquois student Sam Scamardo, currently a senior at Niskayuna High School, is returning to middle school French class this school year as an intern through the Career Exploration Internship Program. Iroquois French teacher Lynne Macko sat down with Sam to ask a few questions about his participation in this program.
What is the CEIP program?
The Career Exploration Internship Program (CEIP) is an opportunity for seniors to go out into the field they want to study in college and experience it firsthand. It's a good way to gauge if you can see yourself in the profession post-college. While the internship is the main part of the class, there are 27 hours of in-class instruction as well.
What kinds of internships are available?
Pretty much anything the student wants. Mrs. MacPherson, who runs the program, finds someone in your desired field to pair you up with, or you can do it yourself as I did. Teaching is a popular choice, but a lot of people do nursing and law as well.
What made you want to become a French teacher?
Since I started French in sixth grade, I've found the language and culture very interesting. Additionally, I've wanted to be a teacher since I was a kid, so I put the two together and got French teacher!
Where do you plan to go to school next year?
I'm in the process of college applications and writing my college essay– so I haven't officially applied anywhere, but my top choice is SUNY Geneseo. I plan to get my Master's in Adolescent Education with a focus in French from there.
What's it like being back at Iroquois Middle School?
It's strange, but in a good way. It's so similar to when I was here but with little changes that make it so different from my experience. It's been good to be back and see my former teachers and classrooms.
Would you recommend the CEIP program to future seniors?
Yes! It's a great opportunity to get into one's desired field and make sure you actually enjoy it! It saves time in college and is a great asset in high school.
The Career Exploration Internship Program allows seniors to explore a profession they are strongly considering upon graduation from high school. The program places between 60 and 90 seniors each year in internships. Students can complete hours after school, on weekends and during school hours when they are not scheduled to be in class. For more information about the program contact Mary Jane MacPherson at mmacpherson@niskyschools.org.