This slideshow requires JavaScript.
Celebrated young adult fiction author H.D. Hunter, known for his captivating explorations of the human experience through works including "A Magic Door and A Lost Kingdom of Peace: A Collection of Tales" and "Torment: A Novella," visited Niskayuna High School on May 15 and 16 to engage students in creative writing workshops designed to foster a deeper understanding of storytelling. During his visit, Hunter announced the winner of a special book cover art design contest he held exclusively for Niskayuna students. 
This marked Hunter's second visit to Niskayuna High School, following his participation in the 2019 writer-in-residence program. In 2020, Niskayuna was the first high school to incorporate Hunter's book "Torment: A Novella" into its curriculum. "I feel like I'm at home when I come around," Hunter said. To commemorate the fifth anniversary of the book, he invited students to design an original book cover that reflects the core themes and messages of the novel. 
"Over the last four years, I've been able to not just talk about community with students but to take some part in sharing in the community that they've built and bringing them insights from other communities that I'm a part of," Hunter said. "Now, with the art contest, we're in community with one another."
Tenth grader Sage Kos was announced as the winner of the contest. "I was happy that I was able to convey some of the themes I thought were really important in the book. It's like the collaboration that [Hunter] was talking about," Sage said. "I kind of want to be an artist in some form, so to get that start that most people probably wouldn't be able to get – that's kind of exciting."
Sage will have their artwork featured on the cover of a special fifth-anniversary edition of "Torment: A Novella." The special edition will also include an art card providing readers insight into their artwork.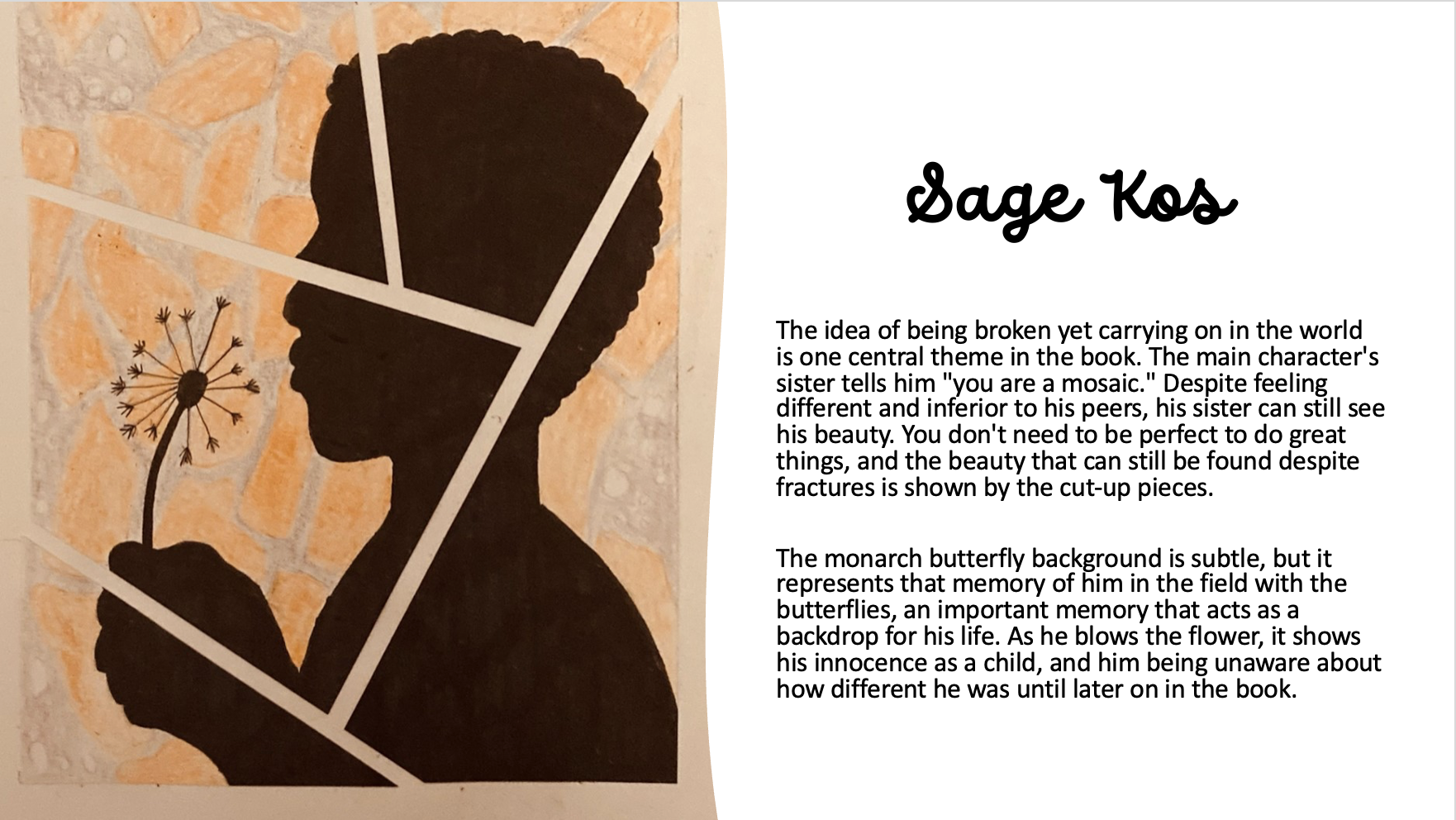 Hunter held a keynote presentation each day of his visit and engaged 22 classes in creative writing workshops. The workshops used a "mood jumping" exercise as a way for students to jump-start a creative writing project. Students used books to inspire their writing and convey their chosen mood, or shift away from it.
"One of the most fun things about art to me, and one of the most beautiful parts of it, is that it is this conversation throughout the entire spectrum of history with people that have existed long before us and the stuff that we make for people who will exist long after us in all different parts of the world. That's the reason that you can pick up a random book and flip to a random page and find something you feel connects with a mood that you might feel on a daily basis," Hunter said. "It's all one giant web of conversations happening about what it's like to be a person in this world. It makes me feel so much more connected, even if I haven't had a chance to meet people face-to-face. I know that I'm not alone in the things I feel and think."
Niskayuna's ongoing collaboration with Hunter has been facilitated by English teacher Leah Werther, who is serving this year as a teacher on special assignment in support of the district's Strategic Plan for Equity, in collaboration with English Department and Library Media faculty.
Hunter was also featured in a writing contest for Capital Region students organized by Skribblers Magazine, the Capital District Writing Project, Niskayuna English teacher Leah Werther and the Albany Public Library. Students were asked to respond to the prompt "What is your freedom dream?" with grades K-5 writing about a wish they have for making the world a better place. Quinn, a Rosendale Elementary School third grader, was selected to read the poem she wrote at a recognition ceremony held May 16 at the Albany Public Library. You can listen to her poem in the video below.