Students, programs, strategic plan, future vision highlighted
At the Jan. 23 meeting of the Board of Education, Superintendent Cosimo Tangorra, Jr. provided a "State of the District" presentation. This included a snapshot of district demographics, academic results, financial information and the status of initiatives stemming from the District Strategic Plan.
Here are ten takeaways from the full report, which is available on Niskayuna BoardDocs.
#1: Niskayuna students have access to a wide array of opportunities – and they take advantage of them!
Niskayuna High School students can choose from 50-plus honors or Advanced Placement courses, 25 college-credit bearing courses, and more than 30 career and technical education programs. We offer five world languages, 85 interscholastic athletic teams, a variety of student clubs at the middle and high school levels, as well as, dozens of concerts, art shows and family events annually.
#2: Niskayuna students are going places.
A total of 91 percent of the members of the Class of 2017 planned to go to a two- or four-year college, with 3 percent headed to the workforce and 1 percent into the military. As of this fall, Niskayuna graduates were attending 229 colleges and universities across the United States and Canada.
#3: The district performs well compared with the state and is competitive with peers in the region and around New York.
The district's graduation rate of 94 percent (for 2016) is well above the state average. In most cases the district is among the leading school districts in the region when comparing the results of grades 3-8 Math and English assessments and Regents exams. District Regents exam results are competitive with a statewide peer group.
#4: The district serves a diverse student population in many senses of the word.
Approximately 12 percent of Niskayuna students are eligible for free or reduced-price school meals, and 10 percent students are served through Individualized Education Plans (IEPs). Roughly 75 percent of Niskayuna students are white, 4 percent are black or African American, 3 percent are Hispanic or Latino, 16 percent are Asian and 3 percent are multiracial. More than 115 students are learning English as a new language, representing a total of 23 native languages. Diversity is among the district's greatest strengths.
#5 Student-to-staff ratios are returning to pre-recession levels – but needs continue to grow.
The student-to-staff ratio increased during the recession and state aid cutbacks of the last decade. While this trend was reversed due to the investments of recent years, Dr. Tangorra noted that student needs in general have grown and the district now needs to make up for lost time. Needs remain – especially in the priority area of social and emotional support. The district has the full-time equivalent of nearly 700 employees – and they all play an important role in the success of our students.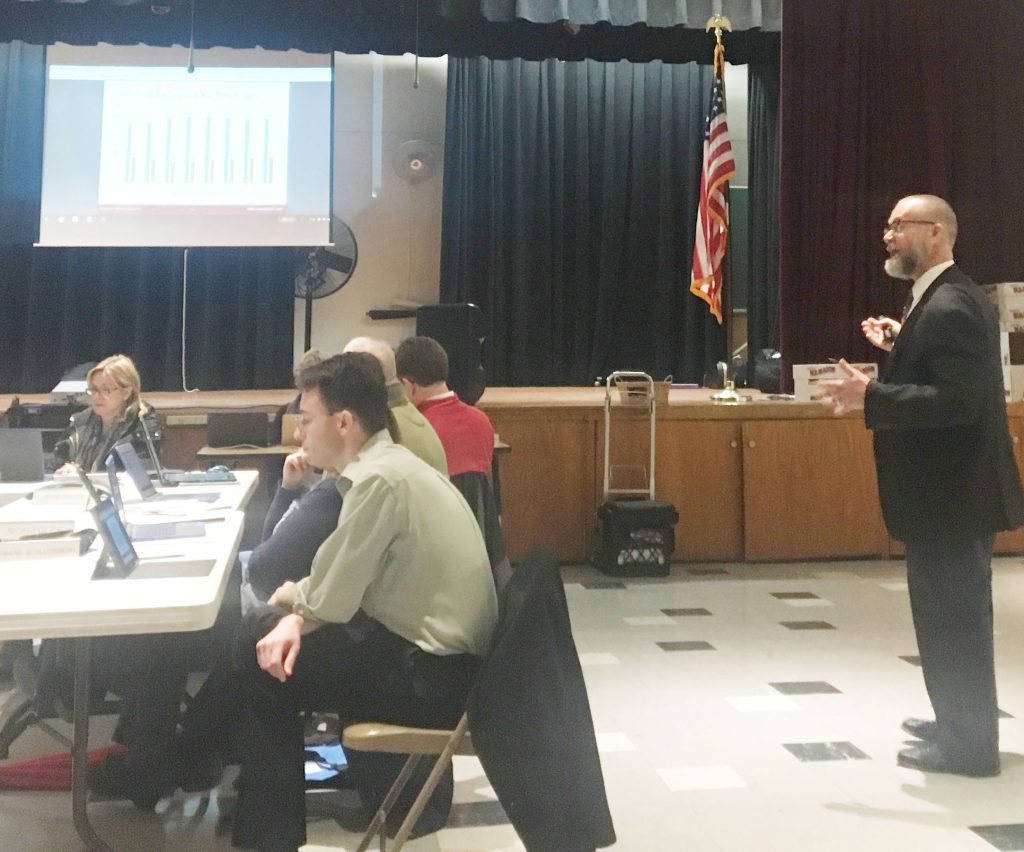 #6: The district is focused on providing the best possible student opportunities, while being sensitive to spending, taxes, and fiscal stability.
District spending per pupil is below the county, BOCES, region, and state average. Over the last eight years, the average annual tax levy increase has been 2.3 percent. The average annual spending increase in that time has been just 1.1 percent.
#7: The district's financial position with respect to fund balance is stronger than it has been in some time.
The district has been able to maintain an unassigned fund balance of 4 percent of its budget – the most allowed under current law – over the last couple years. This is akin to a savings account and helps protect the district from unforeseen financial issues. At the same time, the district is less reliant than in the past on applying fund balance to help balance the budget, another positive indicator of fiscal health.
#8: Moving the district forward is a community effort.
More than 70 members from all walks of our school community are participating in committees focused on the following areas: Capital project planning; school start times; pathways to graduation; homework; diversity; mental health and wellness; and activities/events. These groups are working at their own pace to develop plans, initiatives, recommendations to benefit our students and schools.
#9: Enrollment is expected to grow, while space is at a premium.
According to an enrollment study conducted this fall, the student population is poised to grow under any scenario. The low estimate in the consultants' reporter indicates that current enrollment of 4,258 will grow to 4,391 in a decade, while the middle estimate projects enrollment of 4,607 and the high estimate projects 5,574 students a decade from now. At the same time, district schools are currently near, at or slightly above capacity, depending on the building.
#10: A vision for programs and facilities is starting to emerge as the result of the strategic plan and community involvement.
This vision includes the ability to accommodate growth in enrollment and programs; having facilities that support programmatic priorities (e.g. labs and space for interdisciplinary, project-based learning at all levels), capacity to serve Niskayuna students with special needs in their own community, building partnerships, and fostering physical, social and emotional wellness.