Dr. Russell Moore to Serve as Interim Principal Until Late October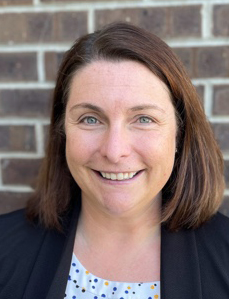 I am pleased to share with you that at the Board of Education meeting on Tuesday evening, Laurel Jones was appointed as the next principal of Rosendale. Jones is currently the elementary administrator for the Bethlehem Central School District and nearly all of her 17 years in education has been at the elementary level. She fills the vacancy created when Joseph DiCaprio accepted a position in Schenectady Schools.
Jones impressed an interview committee made up of Rosendale faculty and staff and Niskayuna elementary principals and directors as an experienced, collaborative and student-centered educator who will help lead Rosendale forward and be an asset to our district. Additionally, Jones is a graduate of Niskayuna Central School District and looks forward to "coming home" and working with all of you. In her position at Bethlehem, Jones oversaw the district's K-5 Virtual Learning Academy, has served as an interim elementary principal, and has been the administrator for response to intervention, K-12 library services and instructional technology. She has served as an assistant elementary principal in the Mohonasen Central School District and began her career as a classroom teacher in Bethlehem.
Jones is a graduate of Ithaca College, has a master's in elementary education from Boston College, and earned her school building leader certification from The College of St. Rose.
She will begin at Rosendale on Monday, Oct. 25.
"I am excited to join the Rosendale community and honored to be part of the Niskayuna Central School District," Jones said. "I look forward to working with the dedicated faculty and staff, committed parents, and hard-working students and continuing the outstanding work that is taking place at Rosendale."
Interim Principal Russell Moore
Prior to Jones beginning at Rosendale, longtime educational leader Russell Moore, Ph.D., will serve as the interim principal. A district resident, Moore served as the principal of Shaker Junior High School for 30 years prior to retiring in December 2018.
Dr. Moore brings a great deal of experience to help guide the school and support Rosendale students and staff members for this interim period. He will begin in the role on Monday, Sept. 27.
Imran Abbasi, Director of Social Studies, World Languages and ENL, will be at Rosendale for the remainder of this week to provide support and supervision and address any needs that arise.
Please join me in welcoming Russell Moore and Laurel Jones to Rosendale and the district!
Sincerely,
Marie Digirolamo
Assistant Superintendent for Instruction