Niskayuna's 65th graduating class celebrated commencement on Wednesday, June 21 in a ceremony that featured music, recognition of distinguished alumni, and reflection on the boundless possibilities that await the 335 members of the class of 2023. The graduation ceremony took place at the MVP Arena in Albany.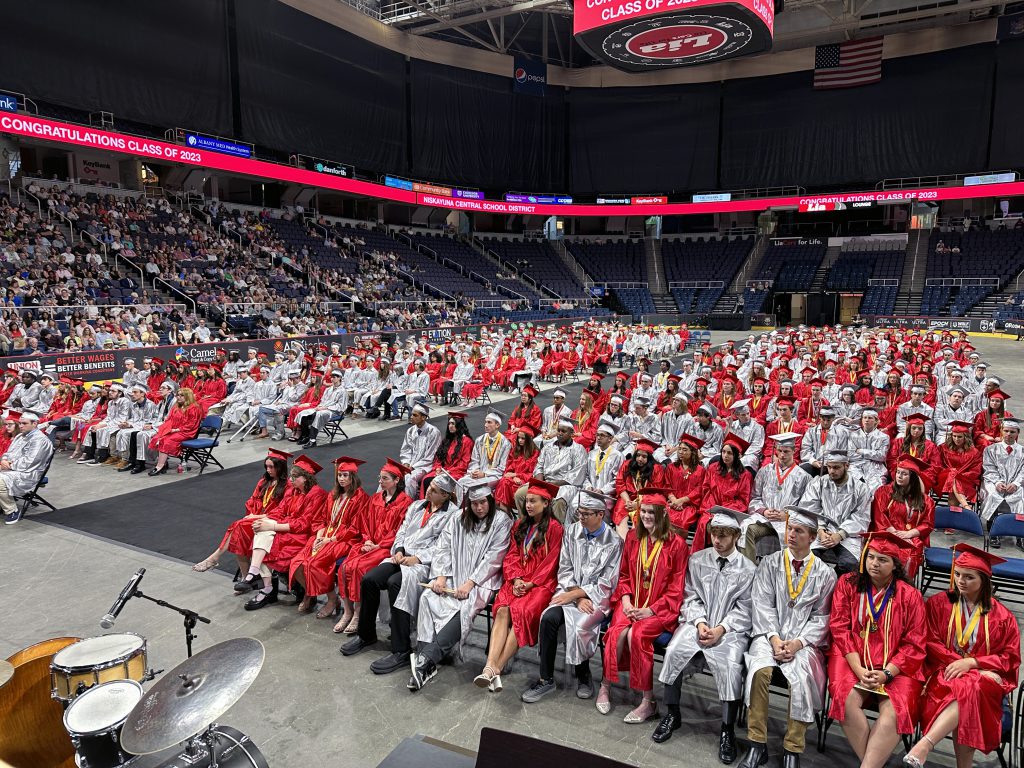 In her welcome address to graduates, senior class president Hailey Auster reflected on the importance of failure as a source of learning and growth. "Understanding how failure can be used as a stepping stone is the first step in becoming a better person," Auster said.
Auster reminded graduates of their power to make change in the world by persevering through challenges. "I want you to remember that your voice wields enormous power. You wield enormous power. Regardless of if you fail every now and then, I never want you to give up the power of your voice because it can make great change," Auster said.
Superintendent Carl Mummenthey extolled the class for demonstrating a commitment to balancing both joy and rigor in their academic careers at Niskayuna High School. He left the graduating class with a lesson he previously shared with his own school-aged children: "You are about to enter a world that hungers for your wit, your passion, your advocacy and your leadership. And as you take those first steps into that big bold world, remember to work hard and remember to be kind."
The Niskayuna High School Hall of Fame induction takes place each year as part of the graduation ceremony to recognize distinguished graduates who have made exceptional contributions in their respective fields. This year, three alumni were inducted:
Martha Heller from the Class

of

1988, Vice President, Government Relations and Regulatory Counsel at Paramount Global.

David Holl from the Class

of

1978, Chief Executive Office at Mary Kay Inc.
John Leonard from the Class

of

1978, a standout multi-sport athlete and coach, drafted by the New York Knicks in 1982 with their tenth-round selection and played professionally for the Albany Patroons.
The program included several musical performances by members of the graduating class, including an exuberant performance of Aretha Franklin's "Respect."

Class vice president Emily Elizabeth de Soyza, and class secretary Molly Elizabeth Maloney presented the class gifts to incoming freshman students. The class of 2023 established a $1,000 scholarship that will be awarded annually for the next ten years in memory of Isabella Johns, a Niskayuna class of 2023 student who passed away in 2021. The class gifts also included a mural in the upper C hall of the high school depicting what it means to be a Niskayuna student and a donation of $600 to the class of 2027.
You can watch the entire 2023 Commencement Ceremony on our YouTube channel.