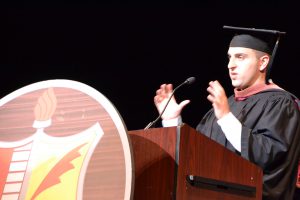 Niskayuna's Hall of Fame was instituted during the district's 25th Anniversary celebration in 1983 to honor graduates who have distinguished themselves in a specific field of endeavor, in civic affairs, in humanitarian affairs, or in activities deemed by the Hall of Fame Committee to merit special recognition. We believe the Hall of Fame program will help develop a more positive school climate and bring our community together in sharing the successes of our native sons and daughters. A committee of citizens, students, faculty and administrators selects the inductee from nominations submitted by members of the public each year.
Honorees
Since 1983, more than 60 distinguished alumni have been inducted into the Hall of Fame. View list of honorees
Induction Ceremony
Formal induction into the Hall of Fame takes place each year during the High School commencement exercises at Proctor's Theater. The plaque with an etched photograph of the Hall of Fame member with a brief biographical description will be permanently housed in the Hall of Fame area at the main entrance area of Niskayuna High School.
Nominating Process
Nominations are solicited each year in the fall and early winter. During this time, nominating forms are available on the website, in the Niskayuna High School Office, 1626 Balltown Road, the School District Office, 1239 Van Antwerp Road, and the Town Supervisor's Office at Town Hall, One Niskayuna Circle.