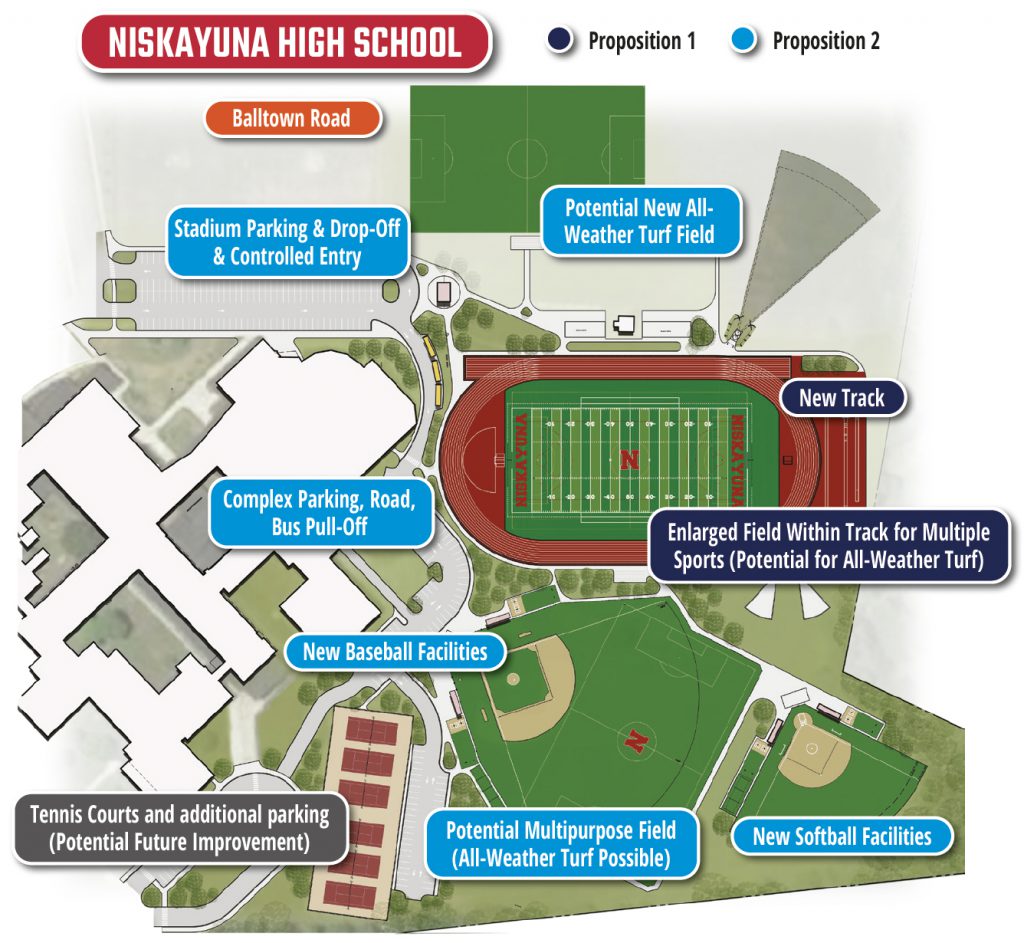 Advancing  the Niskayuna High School Athletics Master Plan
Consistent with feedback received over many years, the district wants its athletic facilities to be safe and accessible for members of our school community to come together for events and for student-athletes to grow and develop as individuals and team members. If approved, the two propositions would accomplish this by resulting in the near-completion of a new Niskayuna High School Outdoor Athletics Master Plan.
Currently, the track is in such poor condition that two lanes cannot be used at all and that the high school can no longer host home track and field meets. Other issues with the outdoor athletic facilities include a lack of accessibility for individuals with disabilities, baseball fields that are often unplayable during the season due to poor drainage and dugouts and backstops that have not been updated in upwards of 30 years. The plan also addresses traffic flow and safety and adds parking.
Together, Propositions #1 and #2 include improvements to outdoor athletic facilities that would make the whole complex more versatile for our teams and community. A breakdown of each is below.
Proposition #1
New track.
Enlarged field inside the track for multiple sports (e.g., soccer, field hockey and lacrosse).
Proposition #2
Additional parking and roadway for improved traffic flow.
New stadium entry, a safety and supervision improvement.
Bus pull-off.
Bleachers, lighting, and sound system improvements.
Potential for all-weather turf on stadium field.
New baseball and softball facilities.
Potential multipurpose field between baseball and softball with all-weather turf possible.
Potential all-weather synthetic turf field along Balltown Road.