District says farewell to employees with 400-plus years of service to our schools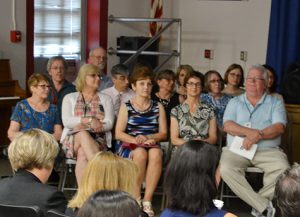 It was an evening of laughter, stories, even some tears, but mostly deep gratitude and appreciation for service to the children of our community. The 20 staff members, covering all areas of the district, who are retiring this year were honored at the Board of Education's annual recognition ceremony prior to the June 13 Board meeting.
As is tradition, administrators shared stories about each retiree and reflected on the difference they had made in the lives of children and the impact they made on their colleagues.
"In the years that lie ahead, recall us fondly," said Board President Rosemarie Perez Jaquith as she opened the program. "Embrace the exciting challenges that await you and make the most of each day. Embrace the knowledge that you have left a lasting legacy. You have shaped and molded the minds and hearts of so many."
This year's retirees are listed below with their school/department and years of service.
As part of the recognition, newly tenured faculty members were also honored. This "passing of the torch" looks to be a new district tradition.
The retirees were presented with a district collage and signed the district's service register.
We thank our 2017 retirees for their service to our students and community!
Guy Connelly, High School, Supervisory Clerical Assistant, 10+ Years
Dennis Deland, Craig Elementary School, Head Custodian, 29 Years
Suzanne Dorries, Glencliff Elementary School, Head Custodian, 22 Years
Cathy Frank, Hillside Elementary School, Teaching Assistant, 23+ Years
Stephanie Frey, Iroquois Middle School, Teaching Assistant, 19 Years
Barbara Gorman, Glencliff Elementary School, Teaching Assistant, 22 Years
Judith Henery, Birchwood Elementary School, Teaching Assistant, 17 Years
Varda LeMonds, Niskayuna High School, Teaching Assistant, 11 Years
Lauren Matarazzo, Iroquois Middle School, Teaching Assistant, 23 Years
Margaret Mazzanoble, District Transportation, Supervisory Clerical Assistant, 8 Years
Renata Miros, Craig Elementary School, Cleaner, 7 Years
David Ormsbee, District Operations and Maintenance, Senior Maintenance Mechanic, 29 Years
Randall Roeser, Iroquois Middle School, Math Teacher, 20 Years
Michelle Ryan-Rivers, Rosendale Elementary School, Speech Therapist, 25 Years
Michelle Sausa-Gatta, Hillside Elementary School, Music Teacher, 26 Years
Diana Seda, Niskayuna High School, Executive Secretary I, 15 Years
Mark Treanor, Niskayuna High School/District, Director of Student and Staff Support Services, 31 Years
Judith Vaccaro, Niskayuna High School, Teaching Assistant, 14+ Years
Peter Warren, Niskayuna High School, Social Studies Teacher, 31 Years
Abigail Weber, Glencliff Elementary School, Teacher, 34 Years