Congratulations to the Class of 2017
Be curious, be present, be kind. Explore.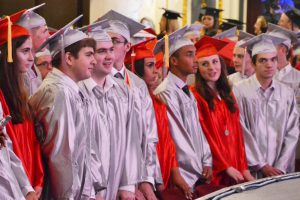 As Niskayuna High School sent its 59th class of graduates off into the world on Thursday, simple and powerful words of wisdom punctuated a ceremony that matched the spirit of compassion and enthusiasm that the Class of 2017 brought to these last four years.
Prior to receiving their diplomas, the 329 members of the class were treated to an array of student musical performances, special recognitions, and some life advice from someone who was once in their seats – Airbnb co-founder and CEO Brian Chesky, a 1999 graduate who enterd the High School Hall of Fame as part of the ceremony.
Class President John L. Hess offered his fellow graduates some advice of his own as part of his welcoming remarks.
"Be kind," Hess said. "Kindness will never go out of style. We live in very divisive times, but that's not an excuse to treat people with less respect just because they disagree with you."
Hess recapped the many successes and achievements that the Class of 2017 has been a part of, including: the area's top musical; a state lacrosse title and Niskayuna High School's first sectional championship in baseball; the Congressional Art Award; National Merit Scholarships, Division I athletics; and many other high honors.
"Over these past four years, we have scaled the mountain known as high school," Hess said. "And, now stand here on the eve of the rest of our lives.
The evening featured musical performances from ensembles of several students who presented unique arrangements of "Best Day of My Life" by American Authors and "We are Young" by FUN. Graduates Konrad M. Drzymalski, on piano and Michael Zhou, on violin, presented "Czardos" by Vittorio Monti.
'Ten Things I Wish I Knew"
In keeping with tradition, the Niskayuna High School Hall of Fame induction took place as part of the ceremony.
Board of Education President Rosemarie Jaquith introduced Brian Chesky, co-founder, CEO and head of community of Airbnb, the company he co-founded. She highlighted not just his success as a leading global entrepreneur, but his work to bridge cultures and improve lives of people everywhere through the company and humanitarian efforts.  Chesky has been active in providing global disaster relief and supporting refugees and many local causes.
In addressing graduates, Chesky quickly traced the growth of Airbnb from its roots – a trip to San Francisco in a Honda Civic and an idea to rent airbeds for an international design conference – to its current status as a global community of millions. However, most of his remarks were focused on the graduates themselves.
He offered them ten things that he said he wished he knew when he was their place. He encouraged them to listen to their heart, find what they love, explore, stay close to their parents and be curious.
He noted that with time comes perspective and that there is no limit to what they can do.
"Things that seem big to you now will seem small to you one day. And what you can become, you probably don't realize today," he said, drawing from his own story. "So your potential is not known, but if you think you know what it is, you are also probably wrong. Because we all live with unknown potential."
A legacy of enthusiasm and compassion
Class officers noted that high school was not without its difficult moments, especially the loss Spanish teacher Michael Jones this past November. They noted the role that the class played in leading school efforts to celebrate and honor the life of Señor Jones.
"He was an amazing teacher whose sense of humor and positive spirit resonated throughout the high school," said Clemens An. "Señor Jones always made it a priority to put a smile on everyone's face. Señor Jones' spirit mirrors the spirit of this year's graduating class, always full of enthusiasm and compassion toward everyone."
The class gift, a glass enclosed bulletin board and two larger cork bulletin boards that will reside outside of the World Language Resource Center. A plaque beneath them will read "In memory of Señor Michael Jones."
Class officers also shared some donations that the Class is making in honor of their advisors, Mrs. Lainie Christou and Mrs. Amy Martin, and the High School administration. These will benefit Nisky NOW (Nutrition on Weekends), the City Mission, Habitat for Humanity, St. Sophia's Greek Orthodox Church and the Debra of America Society.
Additionally, a contribution has been made on behalf of the class officers to help Madison Dunlap, the South Colonie High School student who was injured in a car accident this spring.
Among the other special recognitions was the presentation of the Niskayuna Medal of Excellence to Director of Student and Staff Support Services Mark Treanor, who is retiring after a 32-year career with the district, including three decades as a high school teacher, coach and assistant principal.
'Make your lives extraordinary'
In his remarks to graduates, Superintendent Cosimo Tangorra, Jr. noted that the pursuit of knowledge is a lifelong journey and some of the most powerful lessons take place outside of the classroom.
"Class of 2017, be present, stay curious, stay connected," Dr. Tangorra said. "I wish all of you health, happiness, and one learning experience after another."
In his welcoming remarks, Hess encouraged his fellow graduates to have faith in themselves. After all, they've already shown they are equipped with the tools to be successful.
"Tomorrow is the first day of the rest of our lives," Hess said. "Let's do something with them. Carpe diem, friends. Make your lives extraordinary."