We asked the regional champions from VA, "What is your favorite thing about Science Bowl?"

VA and Iroquois Finish 1-2 at Regional Competition; NHS Teams Place 4th and 5th
It may have been virtual this year, but some things don't change: A Niskayuna team is headed back to the National Science Bowl Championship after winning the regional event.
Regionals were held in a virtual format on Saturday, March 7, and both Van Antwerp and Iroquois advanced to the head-to-head competition in the finals with VA coming out on top.  In the High School division, the Niskayuna High School team placed fourth and fifth out of 15 entrants.
The National Science Bowl is an annual event sponsored by the Department of Energy. Regional competitions are held throughout the country with a national event held in spring. Typically the event follows a "quiz show" format, with the first team who buzzes in having the opportunity to answer the question. With the virtual competition, each teams were given a limited time frame (as short as 7 seconds!) to answer the same questions in the following areas: math, physical science, life science and earth science and energy.
"There is a lot of stuff to cover," said Van Antwerp team member Aryeh Korevaar." As a result, each team member specializes in one or two areas.
The Van Antwerp team includes Aryeh, Reeya Dhinesh, Mihir Kulkarni, Alex Petrangelo, Arjun Rangarajan, and and is coached by teachers Karen Postlethwait and Christine Anani.
They are part of a strong Science Bowl tradition at both VA and Niskayuna overall. This year will mark the 12th time in the last 17 years that Van Antwerp will represent Niskayuna at Nationals. During that time, Iroquois has also made it to Nationals, which normally take place in Washington, D.C. normally.
The Iroquois team is: Simran Utturkar, Iris Liu, Vincent Shi, Daniel Yang, and Jason Lian and is coached by teacher Monica Judd.
One Niskayuna High School team is comprised of Alexander Mavian, Ryana Sarcar, Shivam Gupta, Peter Meshkov and Cristina Rojo and the other includes Tarun Jacob, James Lian, Grace Sun, Giancarlo Stabler and Faiz Wareh. The NHS coach is biology teacher Elizabeth Kenny.
All of the teams practice after school in the weeks leading up to the regional competition. This year's virtual format was an adjustment – both in terms of the competition and the overall experience of being part of the team.
"It was much different than anything we've ever done before because you don't interact with people as much and there was much less social aspect to it so it's harder to get closer with your teammates," said Van Antwerp's Reeya Dhinesh. This was one more challenge students worked through: "I would say that we are definitely still close as a team because there are different ways you can get to know people virtually and it's still very fun."
The team continues to meet regularly after school to get ready to face off against schools from across the country on May 8 at the National Science Bowl, also taking place virtually.
"[Winning] was pretty exciting because it was really hard," said Mihir Kulkarni.  "That's how we know we need to study a lot harder to do well at Nationals so we are preparing for that."
"They've put in a lot of work to get ready for what they did on Saturday," said Mrs. Anani "We've got a really hard working group of science and math enthusiastic students in front of us. I'm really proud of that."
Congratulations to all of our Science Bowl Teams and best of luck to VA at Nationals!
Van Antwerp 2021 Science Bowl Team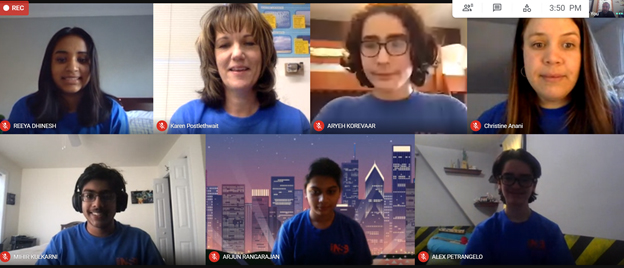 Iroquois 2021 Science Bowl Team

Niskayuna High School 2020 Science Bowl Team (Includes Many Members of the 2021 Team)