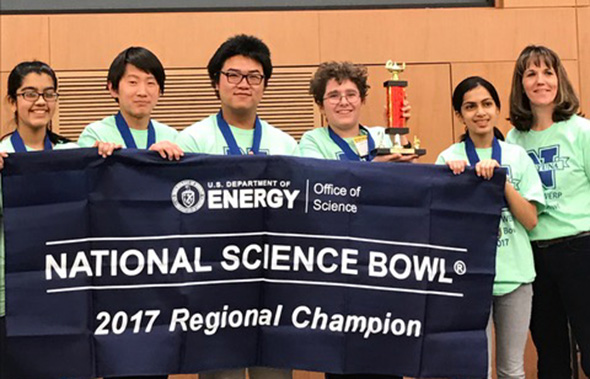 Niskayuna will again be sending a Science Bowl team to the national competition, as Van Antwerp won first place in the regional competition, which was held on Saturday, March 7, at GE Global Research.
All four Niskayuna teams had strong showings in regional play. Iroquois advanced to the final round matchup against Van Antwerp and earned a second place finish. Niskayuna High School entered two teams and both reached the quarterfinals, with Niskayuna 2 earning a fourth place finish.
As part of the event, middle school teams race "falling mass" cars in a hands-on challenge. Then, they move on to the Science Bow, competing in a "fast-paced verbal forum to solve technical problems and answer questions in all branches of science and math," according to the U.S. Department of Energy, which sponsors the competition. It is during this part that students vie for an all-expenses paid trip to nationals in Washington, D.C.
By winning first place in the region, Van Antwerp will take on teams from around the country at this year's national event, to be held April 27 to May 1. The school has represented Niskayuna at nationals in 11 of the last 13 years. Iroquois placed first in the regional competition and participated in nationals in 2016.
The members of the Van Antwerp team, pictured above from left-to-right, are: Suchi Mehta, Kevin Kwon, Josh Wang, Dennis Plotnikov, Ryana Sarcar. The team is coached by teacher Karen Postlethwait.
Congratulations also goes to Iroquois team members Rachel Schmidt, Rohan Menon, Sarah Vernooy, Jeffrey Huang and Rowechen Zhong. Teacher Monica Judd is the Iroquois coach.
For the high school teams, Niskayuna 1 was made up of Ankur Singh, Jack Grossman, Arelson Rapisura, Evan Schnell, and Joy Lim and Niskayuna High School 2 was comprised of Geoffrey Nowell, Paul Pacheco, Adi Kanakasabapathy, Mark Lam, and Shivani Singh.