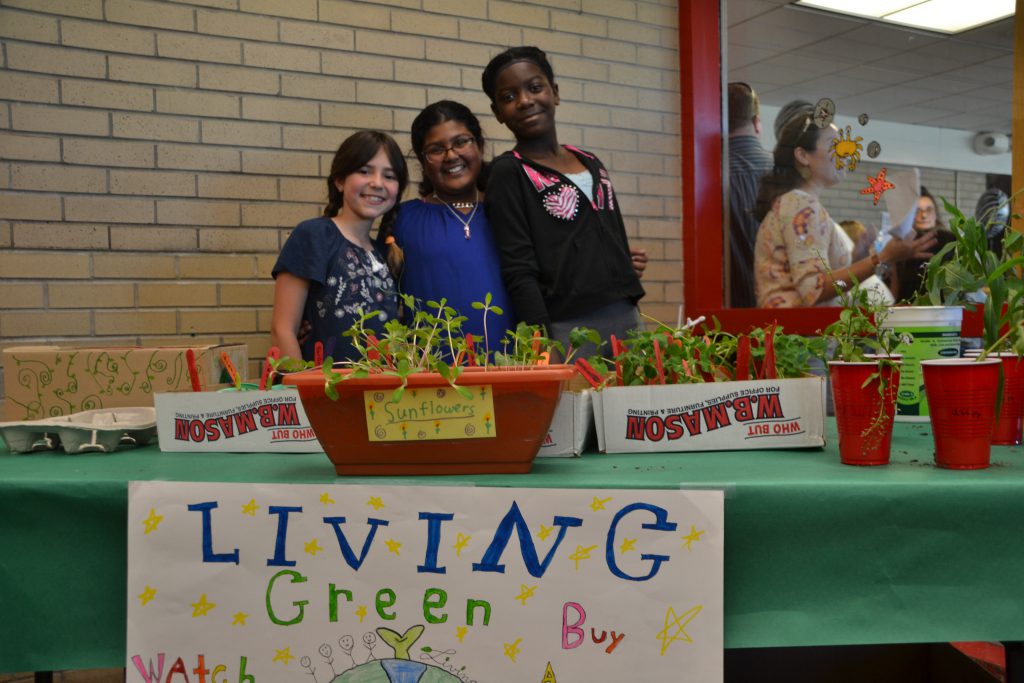 Students raise $7,500 for local charity
Children and adults buzzed through the crowd, hopping from table to table to look at the wares, like walking through a bazaar. Voices could be heard through the hustle and bustle, "Highly recommended – I tried it on my own cat." "Would you like your nails painted?"
The voices were those of Niskayuna fourth-graders, excitedly peddling their homemade goods and services to passersby during the annual Fourth Grade Entrepreneur and Humanitarian Fair. The event was the culmination of weeks of interdisciplinary classroom work tying together math, science, English, economics, business and real-world learning.
The project, meant to encourage creative and critical thinking, required the students to not only to develop products and services, but also resumes, business plans, conduct market research and create promotional materials for their product.
"I've learned that teamwork is very important and that if you don't work together, then you can't get the job done," said Madalena Crisci of Glencliff, whose team "Paw by Hand" made a variety of cat toys.
"It takes a lot of effort to work together and make these products in a certain amount of time," added her partner, Shane LaBounty. Their motto, "We lend a paw," seemed fitting for the assignment.
The two-hour fair itself gave students an opportunity to learn about supply and demand and manage inventory. And with all proceeds going to the Mohawk Hudson Humane Society (MHHS), students had added incentive to sell.
With less than an hour to go, a student waved a sign announcing a "flash sale" at her table weaved her way through the crowd in the high school corridor. Another student announced, "We're having a buy one, get two free sale – we have so much slime."
The budding entrepreneurs seemingly thought of everything. A few minutes before the end of the sale, a fourth grader with a sack of plastic shopping bags turned to a patron and said, "Would you like a bag to carry your stuff for 25 cents?"
Parents took note of the work that went into the production – and of the dividends it was paying. "It was a giant effort on the students, teachers and parents to come together to make a product to benefit their cause and help the community," said Diana Page, whose son Aidan's team made bracelets. "They learned how much work goes into making a product, marketing a product, and preparing to sell it."
"The students are amazing," Niskayuna fourth grade teacher Nicole Melfe proudly announced after calculating the grand total of $7,523.70 raised for the Humane Society.