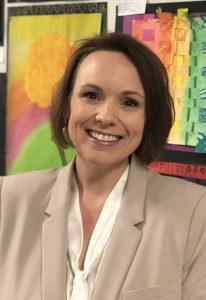 At its April 9 meeting, the Board of Education appointed Sara Lewis as the district's director of secondary special education following a comprehensive search and selection process. Lewis is currently the director of pupil services and special education programs for the Greater Johnstown School District.
The process included statewide postings for the position and finalist interviews with Niskayuna stakeholder groups that included special education faculty and staff, parents and students, administrators and representation from the Board of Education.
Lewis brings nearly two decades of special education teaching and administrative experience to Niskayuna. Her role in Johnstown involves supervising a staff of 60, developing programming, chairing the committee on special education, and leading professional development on a wide-range of topics related to student achievement and support.
Lewis has a bachelor's degree from the State University of New York at Geneseo, a master's degree from the University at Albany, and certification as a New York State School District Leader from Massachusetts College of Liberal Arts. Prior to joining Johnstown in 2014, Lewis was a special education teacher with the Cobleskill-Richmondvillle and East Greenbush school districts.
"Sara has a track record of working with colleagues and families to meet the needs of individual students and a focus on effective and responsive administration," said Superintendent Cosimo Tangorra, Jr. "We look forward to working with her in Niskayuna."
Lewis will begin with the district on July 1, 2019.