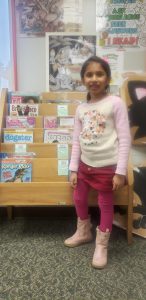 Congratulations to Rhea Utturkar, a first-grader at Rosendale Elementary, who won first place in the K-2 grade category of the national 2019 National Chemistry Week (NCW) Illustrated Poem Contest on the theme, "Marvelous Metals."
Utturkar's winning poem:
Potassium helps my heartbeat.
Calcium makes me strong and stand on my feet.
Iron keeps me energetic, doctors told,
Zinc keeps me away from a cold.
I am marvelous, healthy, and magnificent,
Metals is one of the reasons!