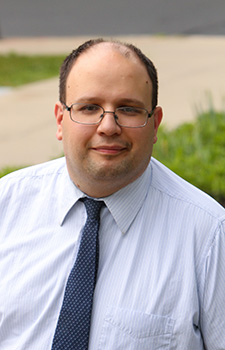 Niskayuna High School math teacher Daniel Mattoon was among the 213 mathematics and science teachers from across the nation that President Obama honored on Monday with the prestigious Presidential Award for Excellence in Mathematics and Science Teaching for 2016. The recipients were announced by the White House.
For about a year Mattoon has known that he was among seven possible finalists from New York but said actually winning the honor is surreal. "I'm really passionate about teaching and math and I always try to improve on my teaching," Mattoon said. "I know that everyone is not going to love math but I try to make it fun so students enjoy coming to class."
High School Principal John Rickert says Mattoon's dedication to teaching and inspiring students is a hallmark of the Niskayuna teaching staff. "Dan has demonstrated tremendous innovation in his classroom and he is able to connect with students in a way that brings out their best and gets them excited about math."
While Mattoon says he is honored to receive the award, he recognizes his mentor, colleague Cheryl Stockwell and the Niskayuna math department as influential to his teaching career thus far. "Even though it was my work submitted, I have learned so much from my colleagues at Niskayuna; it's really a culmination of my work through them. This is their award."
Mattoon, along with the other winners of the Presidential honor, will receive a $10,000 award from the National Science Foundation at a ceremony Sept. 8 in Washington, DC. Honorees will also enjoy educational and celebratory events and visits with members of the Administration.
The Presidential Award for Excellence in Mathematics and Science Teaching is awarded to outstanding K-12 science and mathematics teachers from all 50 states, the District of Columbia, Puerto Rico, U.S. Territories, and the Department of Defense Education Activity schools. The winners are selected by a panel of distinguished scientists, mathematicians and educators following an initial selection process at the state level.
"Congratulations to Daniel on this tremendous honor," said Niskayuna Superintendent Cosimo Tangorra, Jr. "He is highly regarded for his work in Computer Science, calculus and geometry, as well as his contributions to his colleagues and profession. I also believe that recognition such as this is representative of the level of professionalism and excellence that Niskayuna teachers bring to the classroom every day."