Welcome to the Nisky Weekly for June 19, 2020.
We are so grateful for the support and partnership of our school community and wish you a safe and enjoyable summer!
Farewell to 2019-20: A Great Day for a Parade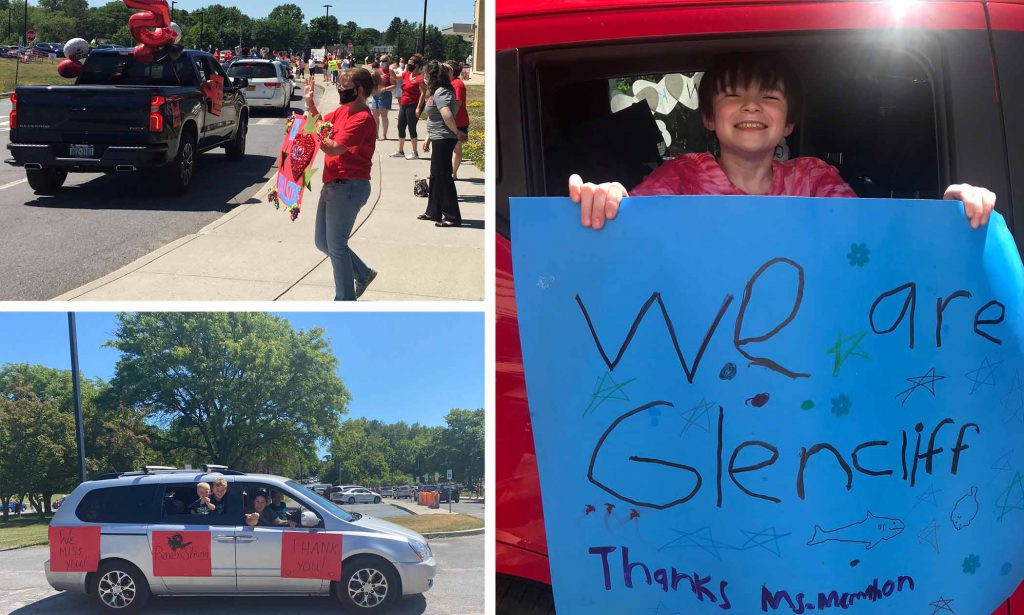 Elementary schools finish the year with socially-distant reverse parades
The school closure did not stop our elementary schools from ending the year in celebratory fashion. Faculty and staff members gathered at each school, as students and families paraded through to wave goodbye to each other and this extraordinary 2019-20 school year. Teachers said a special farewell to fifth grade students moving up to middle school. We also congratulate our 8th grade students, who are moving up to the high school. Eighth grade moving up ceremony videos were featured on the Iroquois and Van Antwerp websites this week and we look forward to celebrating the Niskayuna High School Class of 2020 in the week ahead.
We join the Niskayuna High School PTO, the families of the Class of 2020, and the town in encouraging all Niskayuna residents to celebrate our graduates by decorating our residences in red, white, black and silver from June 19-28!
Superintendent Cosimo Tangorra, Jr. Shares an End-of-Year Video Message
As the 2019-20 school year comes to a close, Superintendent Cosimo Tangorra, Jr. is sharing a brief video update. In it, he thanks our school community for coming together to support students and move forward in challenging times and sends a special message to the Class of 2020. View the Video
Retiree Tribute Video: Thank You & Congratulations
On Tuesday, June 16, at the start of the Board of Education meeting, the 16 individuals who are retiring this year were honored. Although the recognition was virtual this year, the tradition of administrators reflecting on our retirees' contributions to our students, schools, and community continued in a special video presentation. We are so grateful for their service! View the list of this year's retirees and the tribute video
Food Distribution to Continue on Mondays Through June
Our Food & Nutrition Department and Nisky NOW will continue to distribute food to students in need just as they have been during the closure through the end of June. This means that there will be food distributions this coming Monday, June 22, and Monday, June 29. This will take place in the same way it did throughout the closure, with items for five breakfasts and five lunches provided at Niskayuna High School from 9 a.m. to Noon. We are currently gathering resources and information about summer feeding programs in our area to share with families.
Congratulations to 2020 Murray Award Recipients Sherra Johnson and Jessica Stanton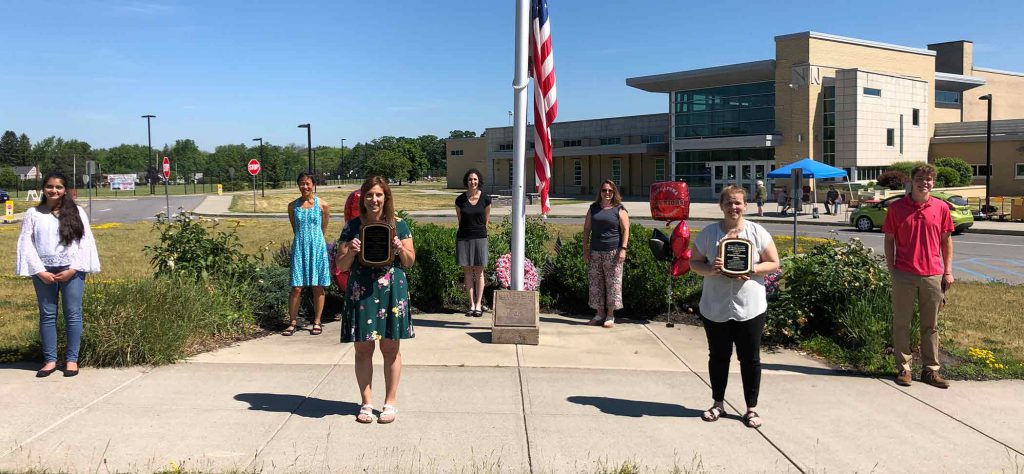 Tradition goes on despite school closure
The school closure did not stop the Niskayuna Community Foundation from surprising two Niskayuna High School teachers with the Murray Award for Excellence, an annual tradition. Only this year, instead of walking into their classrooms unannounced, award committee members entered Google Meets to share the good news. Congratulations to Jessica Stanton, a physical education teacher and Sherra Johnson, a chemistry teacher, for being named this year's Murray Award recipients. This annual award was created in 2004 by Kathy Murray Crowe and Jeanne Murray Veasey, whose parents, Edwards and Sally Murray were involved in the formation of the Niskayuna High School. This award is not competitive, but is intended to be an annual opportunity to select educators who represent the overall excellence of the high school staff and educational program. Above, the socially-distanced presentation of the Murray Award plaques took place in front of the high school on June 18 and included students reading special messages to Ms. Johnson and Coach Stanton.
Oh, the Places We Went…So Long to The Great Niskayuna Read Aloud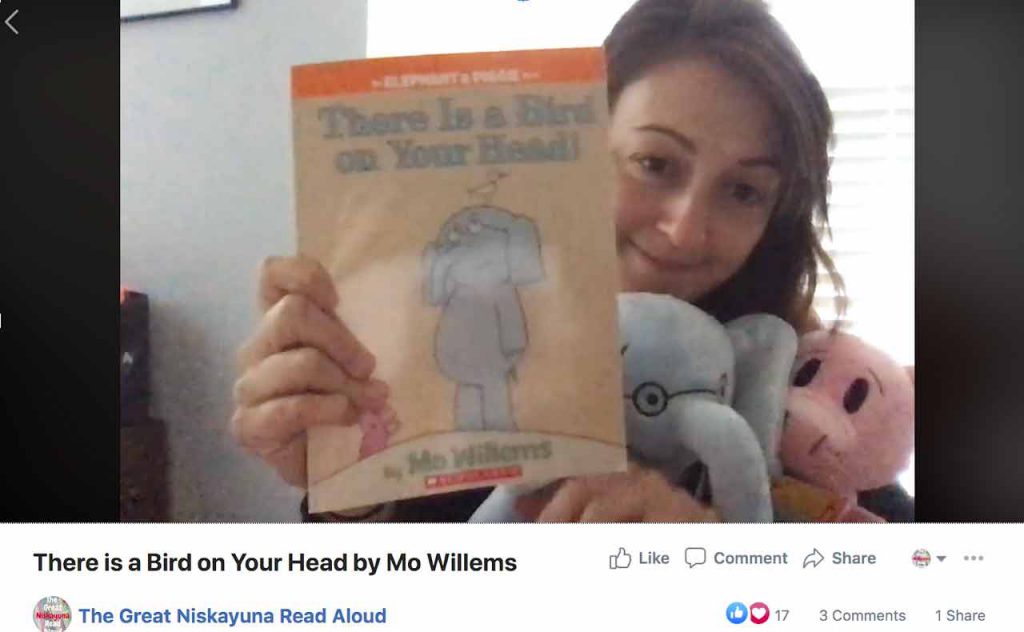 Facebook page brought us daily read-alouds from Niskayuna teachers and staff members
This week, The Great Niskayuna Read Aloud Facebook page came to a fitting close as High School Assistant Principals Eva Jones and Anthony Malizia dedicated a reading of the Dr. Suess Book, "Oh, the Places You'll Go." For more than 70 days as school was closed, viewers were treated to a daily story read by a Niskayuna faculty or staff member. We went to the forest, the beach, Yankee Stadium, where the sidewalk ends, and even a city created by a purple crayon. There were busy spiders, moose with muffins, bears that were afraid of the dark, and dogs – on pages, on floors, chairs and couches. So many dogs. There was even a terrible, horrible, no good, very bad day to remind us that some days are just like that and there's always tomorrow. Pictured above is Glencliff kindergarten teacher Beth Trela, who created and oversaw the page. The stories shared there were viewed a total of 30,186 times. Thanks to everyone who contributed and followed along!
In closing, thank you for your support, patience, flexibility, partnership and overall efforts this year and always. We continue to miss you and can't wait until we are back together at school again!
The Niskayuna Central School District Team
#NiskyTogether