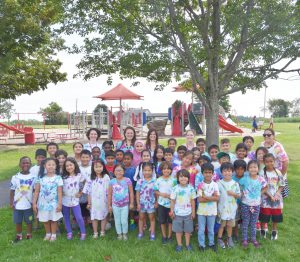 Niskayuna's English as a New Language summer school program is in its fourth year!
Currently, there are more than 25 languages represented in Niskayuna schools. The program allows students who are learning English to continue learning during the summer months by providing a range of educational activities. For the first time since its conception, the program opened up to students in grades K-5. Previously, the summer program was opened to students in grades K-2. This year, 48 students were signed up to engage in fun activities and help them improve their English.
"By attending our summer program, students are able to build upon the skills they learned during the school year, by strengthen their English proficiency, and have plenty of fun," ENL teacher Carla Pakosz said.
Besides learning how to read and write, the program allows the learners to engage in a social aspect.
"I genuinely enjoy watching ENL students from different grade levels, across all five buildings come together, develop new relationships, and learn from each other.​"
The English as a New Language summer program runs from July 22 – August 16.