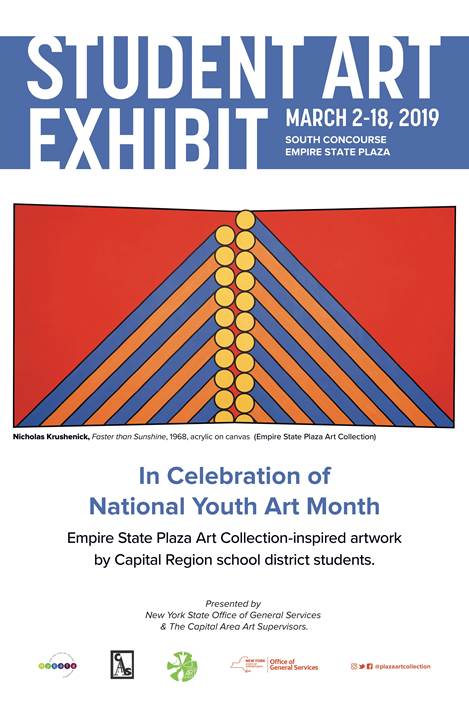 Congratulations to the following Niskayuna students who have had their artwork selected for display at the tenth annual K-8 Empire State Plaza Regional Art Collection Exhibit:
Birchwood – Teagan Augstein-Collins, Teddy Corwin, Marisa Gill, Stella Hawron, Xavier Hladick, Grace Keat, Christopher Kornacki, Brandon Merrill, Brynn Stopera, Daniel Yang
Craig – Sofia Bane, Violet Danko, Willem Greene, Eloise Hansen, Alena Harriman, Eden Huth, Arianna Sui, Sean Suing, Colin Wang, Noah Yukilevich
Glencliff – Madelyn Adamo, Kensley Bates, Malachi France, Carina Frisoni, Caroline Hennel, Henry Moscincki, Sofia Palacios-Harris, Brayden Polikoski, Kaylee Sullivan, Emersyn Torres
Hillside – Nina Akinleye, Natalie Dineen, Paige Fargnoli, Adam Jablonka, Henry Jefferson, Caleb Johnson, Meghan McCutcheon, Trevor Peng, Owen Sanderson, Caroline Souza
Rosendale – Hayley Garrett, Jackson Gregg, Anne Harper, Bradley Heller, Alexa Huettner, Alana Maddalone, Ava Mastraccio, Callan Stabler, Elizabeth Szydag, Eliana Watso-Hanson
Iroquois – Luca Coppola, Ava Dube, Ruth Dussault, Maddie Farina, Ian Jacques, Annabell Jiji, Lillian Joralemon, Caleb Kim, Lily Leslie, Aidan Page, Brooke Walthers, Nathan Wuttke
Van Antwerp – Stella Bilofsky-Myers, Kyra Buhrmaster, Elizabeth Cross, Jesley de la Cruz, Elyse Gerstenbluth, Ethan Gilson, Brodie Makarowsky, Jackson Morse, Safiya Petrushenka, Sarene Son
This event is a one of a kind, as it is the only Capital Region exhibition for K-8 students. This year's exhibition is representative of over 1,400 works from 17 surrounding Capital Region school districts. The student's artwork was inspired by artwork from the Empire State Plaza Collection, which consists of 92 works of Abstract Expressionist art displayed both in and around the Plaza. It was established under the direction of former Governor Nelson A. Rockefeller during construction of the Empire State Plaza (1966–1978).
The exhibit is being held in conjunction with National Youth Art Month and is sponsored by the NYS Office of General Services, the Capital Area Art Supervisors (CAAS) group and the New York State Art Teacher's Association (NYSATA).
The student artwork will be on display at the Empire State Plaza from March 2-18, 2019 on the South Concourse, closest to the Madison Avenue entrance.