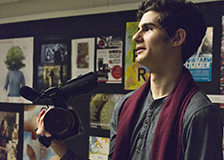 If you hear the name Jad Jacob in Niskayuna, you will also likely hear "Opus 12" mentioned in the same breath. Why? Sixteen-year-old Jacob is the writer, director and editor of the web series Opus 12 which featured classmates and Niskayuna staff in its debut in 2015.
"I didn't know at the time but I guess once the first few episodes were released people started to realize that this is a big deal. It's not just acting in a friend's movie to show in Spanish class," Jacob said of the series. "People gave me the trust that I think we needed and I gave them the trust that they needed to pull through together."
The project, produced during Jacob's junior year, took countless hours to create, prompting Jacob to often beg friends to help during their limited free time. He recalls thinking "Oh you're a senior and you have to apply for college, but could you just take an hour and come film with me?"
This was not the case for his new feature length film "Belwatch," a prequel to "Opus 12" that debuted this past November.
"Belwatch' was a drastically different approach to filming because with 'Opus,' I had no idea if it was going to work and I had to beg people to act for me," Jacob said.
As Jacob began the production process on the prequel however, he realized "Opus 12" had developed a following and sparked interest among the community to work on his new film. Instead of pleading with friends to be in his new production, he had enough interest to hold auditions and make cuts. But he put the same grueling intensity and man-hours into his new film as he had his web series.
"It's never been a burden for me," Jacob said. "Obviously, it's stressful and hectic but it's never like, "I wish I could just put down this camera and quit this whole thing.' I've always enjoyed doing this more than anything else." Jacob will be attending NYU's Tisch School of the Arts Film & Television program where the acceptance rate is just 26 percent.