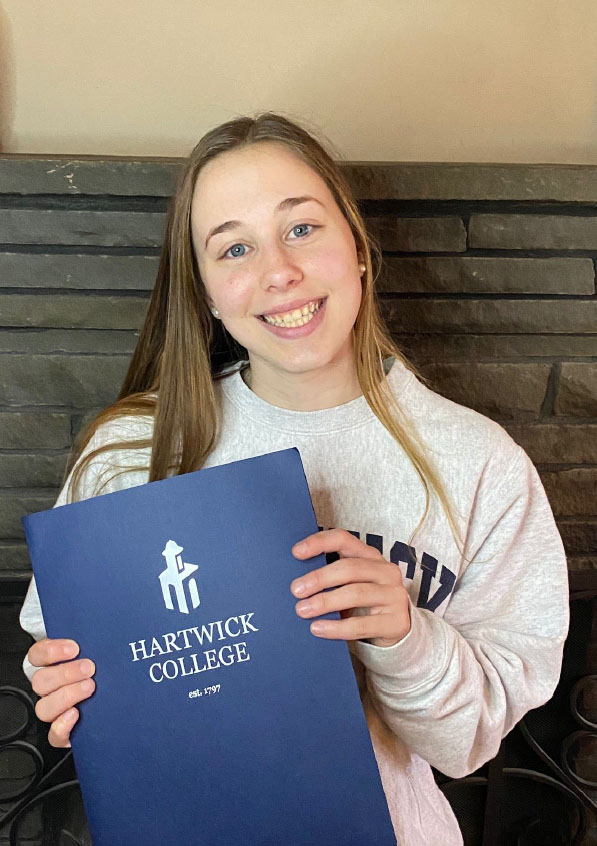 Leslie Perlee
What are your after school plans? 
I am attending Hartwick College to major in nursing.
Is there a particular moment or memory that stands out for you during your time at Niskayuna High School?
There is an entire week that stands out in my memory. I was fortunate enough to be able to travel to Italy for my junior year with my Latin class. There I was able to make great memories with my friends while also learning more about Latin culture. The food was amazing and I am now a lifelong fan of gelato.
How would friends and acquaintances describe you?
My friends would describe me as caring and there for them when they need me. They might also mention that I am very sarcastic.
I am told during your time at NHS you volunteered to work with special needs/disabled children, what inspired you to volunteer? What was your favorite memory while volunteering?
In middle school, I had the privilege of joining the Best Buddies Club after a teacher brought it to my attention. I am very grateful to that teacher for seeing something in me and encouraging me. I enjoyed the club so much that it was just a natural progression to volunteer in the high school program as well. My favorite memory of my time volunteering was the 80's themed dance. We worked with a graduate of the program who had aged out but was still active in the club. I loved the collaboration and helping to make a magical evening for all who attended.
I have also been told you have a desire to enter the field of nursing to help others, what do you love most about helping others? Is that what attracted you to the nursing field?
I decided to major in nursing after I spent my summer at Double H Ranch; a camp for kids with life-threatening illnesses. It was here that I reaffirmed my desire to help others. I think my favorite part about helping others is knowing that I made a difference. Growing up I have always tried to be there for my friends and family, so the idea of helping others in my career is a natural fit.
Is there an achievement or contribution that you are most proud of?
I am proud of my contribution to the school community. I loved being friends with a variety of differently-abled people. I learned as much from all of my peers as I hope they learned from me.
What was your favorite thing about high school? Did you have a favorite subject?
Looking back, my favorite part of high school was being able to be involved with many different clubs and activities. I loved that I was able to meet new people while helping others. I honestly can't name just one of my favorite classes because the subjects that I loved really depended on the teachers. I have had so many amazing teachers throughout high school that I have admired and learned from that I can't pick just one.
Were you a part of any sports, extracurricular activities, clubs, etc.?
I played soccer throughout elementary school and middle school, and played through freshman year in high school. Unfortunately, I had an ankle injury that required surgery and I decided to spend my time in other clubs and activities. I was part of Nisky Friends, Unified Basketball, Relay for Life, and National Honors Society. I see my injury as a blessing in disguise. I was able to be involved with so much more because I had more time to devote to other things.
If you could give your freshman self advice, what would it be?
If I could give my freshman self advice it would be to not stress over the little things. Often I would get stressed that I wouldn't be able to balance schoolwork, a job, and clubs, but in the end, I always had time for everything. Yes, there is going to be some stress but don't let it consume you.
Where do you hope to see yourself in five years?
I hope to be working in the nursing field in a delivery room assisting an OBGYN. I love the idea of working with babies and I think I will be good under pressure.
What will you miss about high school?
This quarantine has shined a light on the fact that I like structure, so I will definitely miss that. I also like interacting with my peers as well as my teachers, so I will look forward to that once I am able to begin college. I miss being a part of things, and many of the things I was a part of at Nisky were exceptional and fulfilling.
What piece of content (TV show, YouTube channel, book, etc.) do you think everyone should know about and that you recommend and why?
I have recently found myself binge-watching "The Good Doctor". I love shows about the medical profession, and I love that the focus of the show is how people can overcome even the most challenging obstacles.