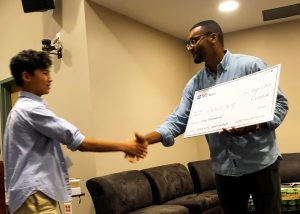 Niskayuna High School freshman Patrick Yang received a $1,000 scholarship this week from the Semi Foundation for his work in the Capital Region BOCES-sponsored Semi High Tech U program.
Thirty-six students from a variety of Capital Region schools took part in this Semi High Tech U camp, the tenth hosted by BOCES. Semi High Tech U exposes students to the importance of science, technology, engineering, and math (STEM) skills through fun and interactive, hands-on activities that take place at high tech industry and university sites. Taught by industry volunteers, students learn in an atmosphere that fosters curiosity and encourages questions. The camp serves as a gateway for curious students to careers in the high technology world. During one activity planned this summer, students will explore how solar power can be used to improve daily life in the developing world. In another activity, students will conduct chemistry experiments to learn about conductivity and connectivity.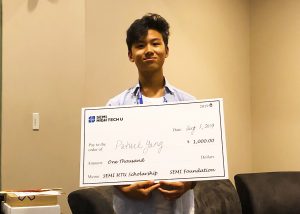 During this week's programming, students learned in labs and classrooms at Hudson Valley Community College's TEC-SMART (Training and Education Center for Semiconductor Manufacturing and Alternative and Renewable Technologies) in Malta, Rensselaer Polytechnic Institute (RPI) and the College of Nanoscale Science and Engineering (CNSE).
Yang said he was surprised to receive the scholarship but thankful for the recognition.
While he admitted to attending Semi High Tech U because "my mom told me to," Yang added that "I enjoyed it. I really got interested in it because I really like engineering."
"I really liked all of the people and the teamwork," Yang added. The freshman plans to study science and engineering in college in pursuit of a mechanical engineering career.