Annual award recognizes excellence in honor of family who helped establish Niskayuna High School in the 1950s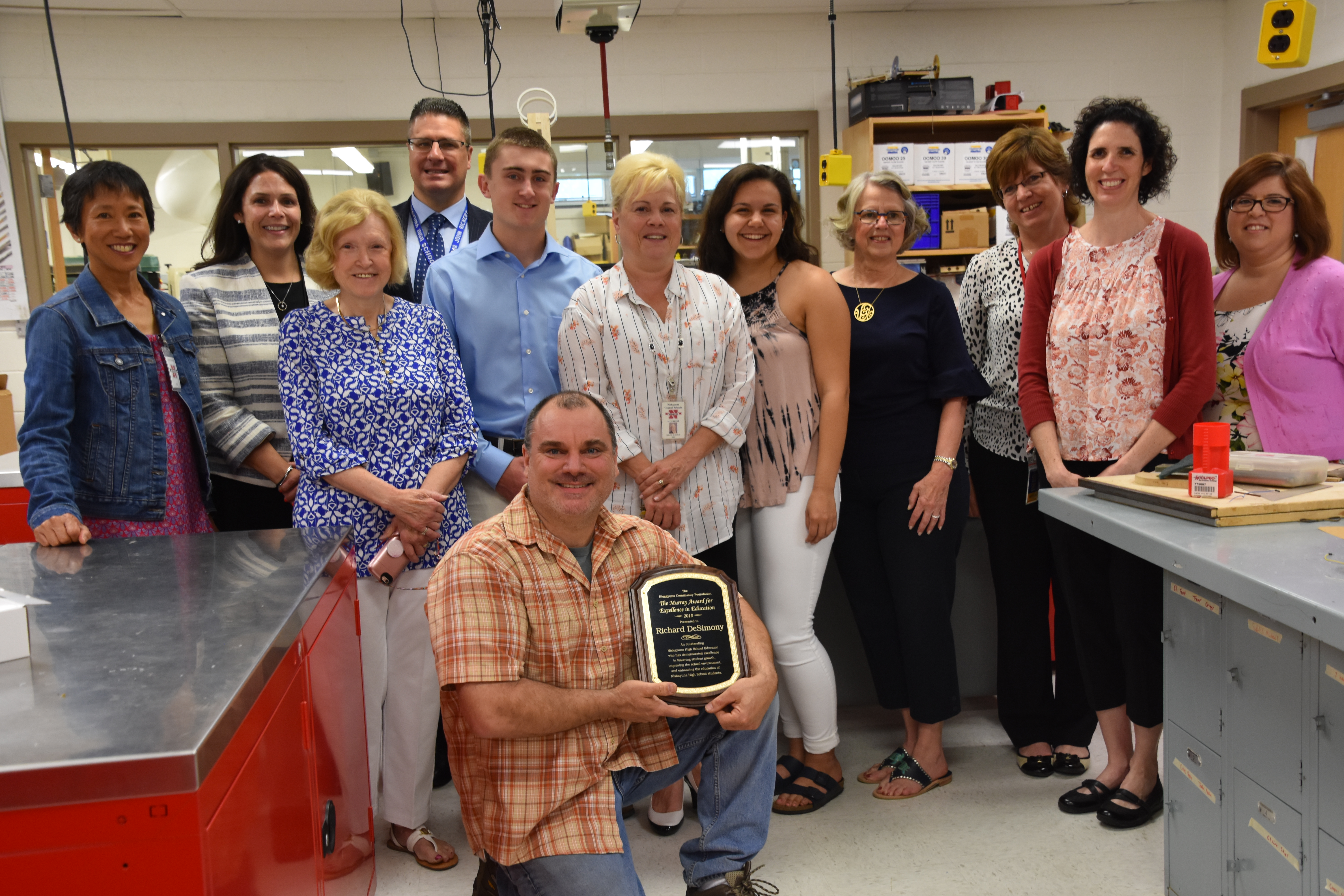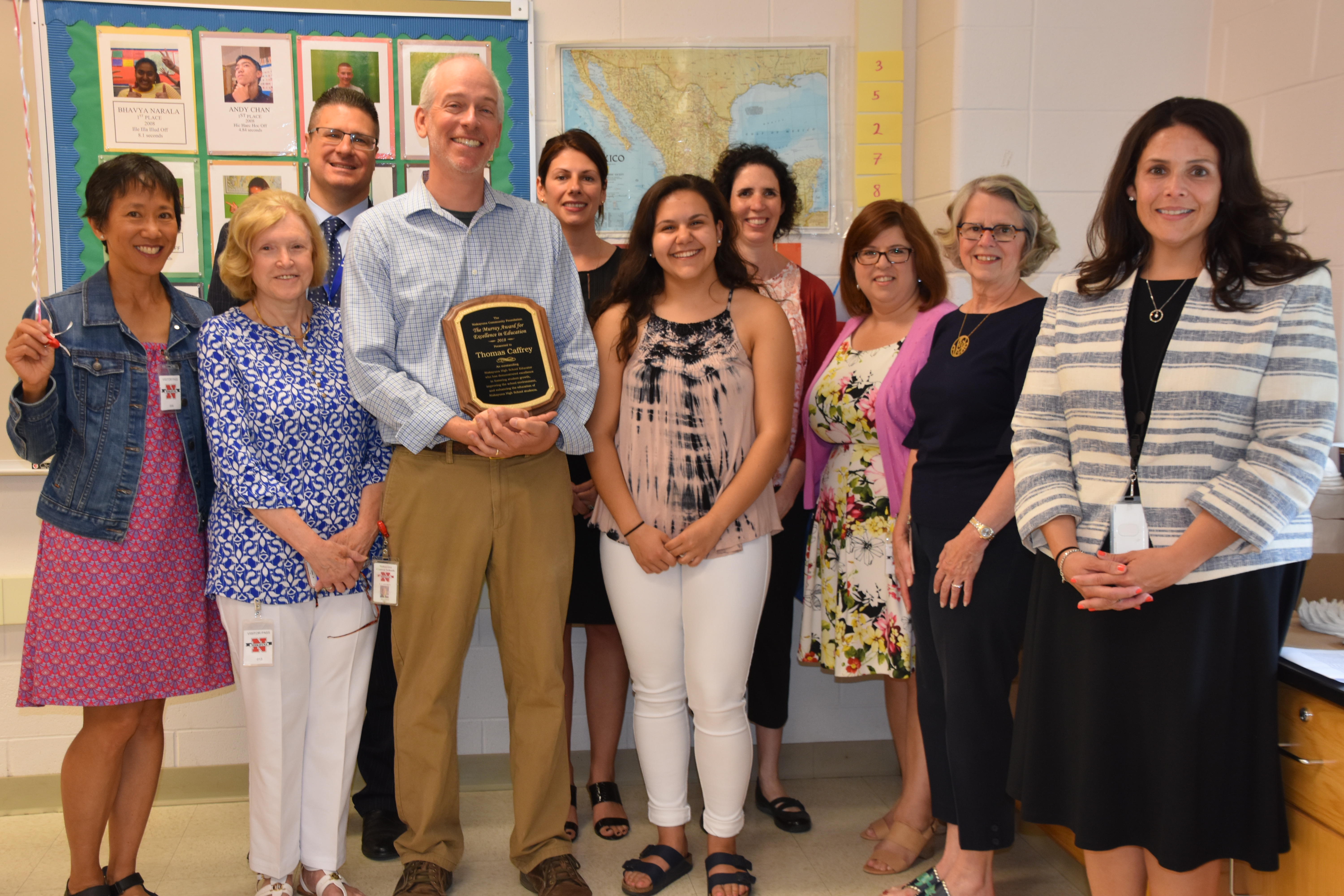 The Niskayuna Community Foundation, a geographic fund of The Community Foundation for the Greater Capital Region, surprised two Niskayuna High School teachers on Thursday, May 31, by presenting them with the 15th annual Murray Award for Excellence in Education. The awards were presented to Thomas Caffrey, a Latin teacher and Richard DeSimony, a Technology teacher. A crowd of students, parents, teachers, and administrators stunned Mr. Caffrey and Mr. DeSimony as they were in the middle of teaching their classes, by walking in with plaques and balloons.
This annual award began in 2004 by Kathy Murray Crowe and Jeanne Murray Veasey, the daughters of Edwards and Sally Murray, to honor their parents' involvement in the formation of the Niskayuna High School and their belief that educators in the high school would be the foundation of the "uncompromising excellence" that is typical of the education throughout the school district. The award is also given in memory of Jeanne Murray Veasey, who has since passed away.
A committee representing students, parents and peers chose the recipients and the Niskayuna Community Foundation facilitated the selection process and award presentation. Criteria included outstanding classroom practices as well as growth potential and a school presence that inspires and positively impacts students, colleagues and the community. At the request of the Murray family, this award is not competitive, but is intended to be an annual opportunity to select educators who represent the overall excellence of the high school staff and educational program.
Thomas Caffrey shares his love of teaching with students in freshman to college level Latin. Mr. Caffrey magically makes the "dead" language so interesting, there is a waiting list to take his class. Students enjoy his sense of humor, positive attitude, and natural ability to make all students feel comfortable. In Mr. Caffrey's college level Latin IV, students translate Roman poems and think critically during discussions on how translations can alter meanings and how the writing relates to them. Besides having students complete writing projects, Mr. Caffrey inspires creativity by encouraging each student's expression in such medium as art, music, and dance. Mr. Caffrey also leads the Outing Club, helping students enjoy the beauty of nature and learn vital skills to stay safe in the wilderness. Senior Ellen Bostwick spoke on his behalf.
Richard DeSimony teaches engineering technology classes from introductory Design & Drawing for Production (DDP) to Senior Research & Development. The technology area is constantly abuzz with students working on computers and building projects in the lab. Mr. DeSimony loves helping his students learn. Beyond the curriculum, students appreciate Mr. DeSimony's life lessons on how to fix cars, the importance of hard work, being true to oneself, and being open to recognize and take advantage of all life's opportunities. Mr. DeSimony is passionate about his students and generous of his time. Typically on Fridays, Mr. DeSimony continues working with his students after school, often losing track of time until the dinner bell rings. Senior Matt Cutting spoke on his behalf.
Each teacher will receive $2,500 for use in a professional development activity of his choice.
About the Niskayuna Community Foundation: The mission of the Niskayuna Community Foundation is to enhance and improve the community through organized philanthropy. NCF benefits current and future residents through support in such areas as cultural, town beautification, scholarship, social service, recreation, and many more. Further information may be obtained by calling (518) 446-9708 or by writing to NCF, 6 Tower Pl, Albany, NY 12203 or at www.niskayunacf.org.