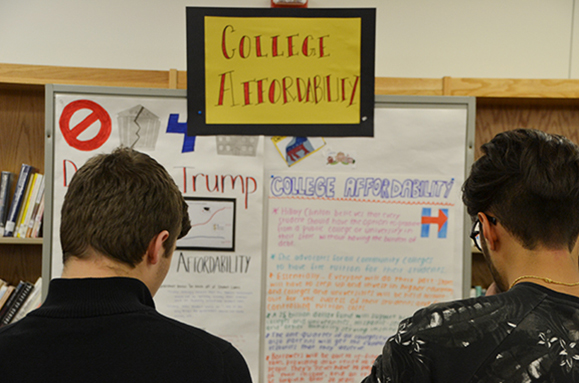 Niskayuna High School Election Gallery Walk focuses on the issues and the candidates
As America goes to vote on Nov. 8, kudos to senior Social Studies classes for the election gallery walk they developed in the high school library, helping build awareness of the candidates and issues involved in the 2016 election. Classes from across the school visited the gallery walk from November 1 through 8. It culminated with a mock election, also organized by seniors, on Election Day.
The gallery walk featured posters about the positions of the four presidential nominees (Clinton, Johnson, Stein, Trump) on eight diverse issues. Biographies of the nominees and their running mates were also included.
The gallery walk provided a springboard to a number of conversations and learning activities in the school. In these pictures, the students of English teacher Annemarie Ihnatolya and Kelly Lehmann visited the library on Nov. 7. They are reading "A Raisin in the Sun," and their assignment was to consider, based on their notes on each candidate and their position, the perspective that the main character would have on the election.