Top academic honor presented to Class of 2019 members at Senior Awards Night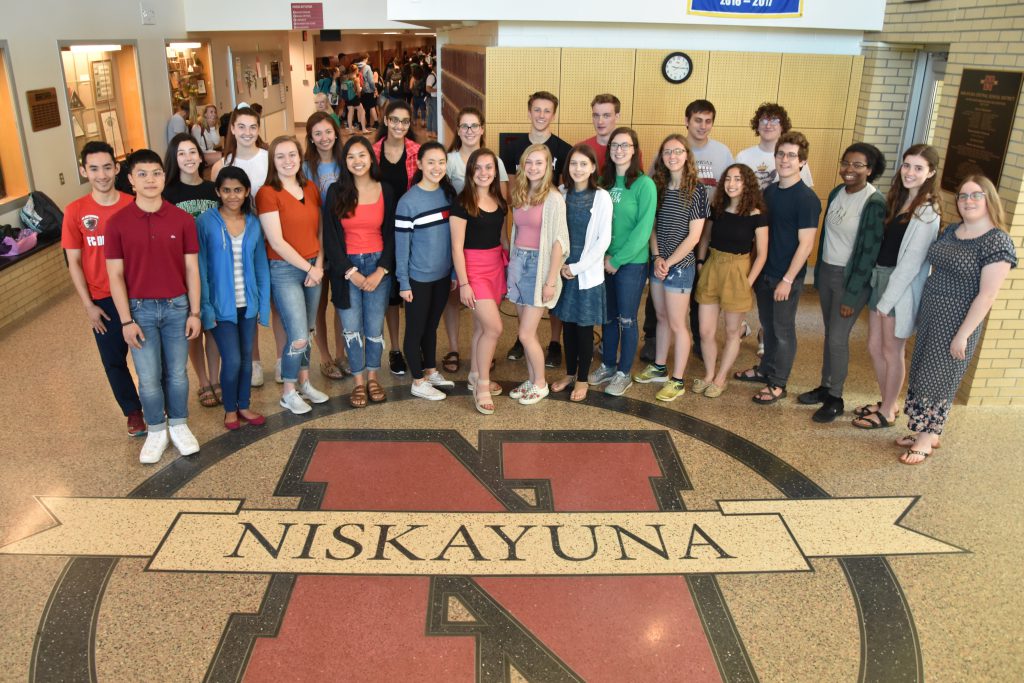 Pictured above from left to right: Evan Schnell, Meng Ho, Madeline Harland, Chris Sunil, Julia Laurilliard, Elizabeth Seitz, Rachel Orr, Tessa Hilt, Saumya Mehta, Joanna Guo, Isabel Bushway, Danielle Dunne, Alexa Smith, Tyler Bobbitt, Malini Correa, Samuel Wagoner, Julia LeBlanc, Ainsley Filkins, Daniel Palmer, Kamryn Almas, Noah Best,  William Thacker, Nikyah Burns, Tess McGrinder, and Jordan McCann
Not pictured: Keenan Duggal and Hsin-Ning Chuang
Twenty seven Niskayuna High School seniors received the Medal of Academic Excellence, one of the highest honors a student can receive at the end of their high school career, at Senior Awards Night on Thursday, June 6.
The Niskayuna Medal of Academic Excellence is awarded annually to those students in the graduating class who have demonstrated the greatest promise as students, having given real evidence of intellectual curiosity and inquiry, of persistence and thoroughness of effort, and of developed powers of accurate thinking and effective expression.
Congratulations to all of the students honored at Senior Awards!