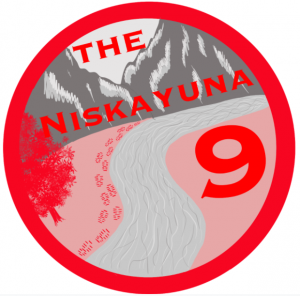 You've heard of an Adirondack 46er, but the Niskayuna High School Outing Club has a hiking challenge for our entire community closer to home. Meet the "Niskayuna 9" – a series of nine hikes at local natural areas in the district or just a few miles away that the club is recommending for community members of all ages.
Best of all, once you visit each of the nine trails/parks and send in a Niskayuna 9 Completion Form to the Outing Club, you will receive a specially-made Niskayuna 9 patch, which can be seen on this page. The patch was designed by club member Alex Gallo.
The Outing Club's goal with the Niskayuna 9 is to encourage all community members to explore the extensive resources that we have right in our area to spend time hiking and being outside in nature. The hikes and natural areas include the Henry Gerber Reist Sanctuary off of St. David's Lane, Lisha Kill Preserve, Indian Meadows in Glenville and Mohawk River State Park.
As part of the Niskayuna 9, the club developed descriptions of each of the hikes/natural areas with links for more information and addresses to help in finding directions. Scroll down for more information or access the complete "Niskayuna 9" guide right here.
Get Your Niskayuna 9 Patch
To receive your Niskayuna 9 patch: Once you complete the challenge, download the completion form, fill it out with all the information and send it to Niskayuna Outing Club, Niskayuna High School, 1626 Balltown Road, Niskayuna, NY, 12309.
While the challenge officially started on April 1, it can be completed at any time!
In addition to encouraging people to get outside through the Niskayuna 9, the Outing Club is also spending time making some trail improvements. On Wednesday, April 14, they met after school at Indian Meadows Park in Glenville where they are helping remove a washed out bridge and reconstruct a foot bridge over a muddy area.
Information and Advice from the Outing Club
There is no set route or distance you must travel. Many of these locations have trails of varying lengths.  

TAKE A PICTURE OF THE MAP before you leave the parking lot.

Obey all N.Y.S. Department of Environmental Conservation (DEC) or local rules and signs.

Use proper trail etiquette – "Leave-No-Trace"

BE PREPARED! Even if  you are going into a forest for a few hours, make sure you are fully prepared. This includes having a map, checking weather conditions, and having the proper gear.

If you are hiking with a pet, educate yourself on proper dog waste management when hiking.  
The Hikes
Fox Preserve
The Fox Preserve is 70 acres of protected land and is one of the last remaining areas of open space in the Town of Colonie. It features just over 1 mile of trails through fields, forests, and along Shaker Creek. The best address to use for Google Maps in 4200 River Road, Latham, NY. 
Henry Gerber Reist Sanctuary
The Reist Sanctuary is one of the largest forest and open-space resources in Niskayuna and features a 1.4 mile loop trail. Owned by the Hudson-Mohawk Bird Club, Inc., the 111 acre Sanctuary can be easily accessed from the parking lot of the Center For The Forest Preserve (Schaefer House) on St. Davids Lane.
Link to Website: Reist Sanctuary
Indian Kill Nature Preserve
The 100-acre Indian Kill Preserve follows the banks and bluffs of the Indian Kill. The Red and Yellow Trail is a 2.6 mile heavily trafficked loop located in Glenville. It features a waterfall and is good for all skill levels. 
Link to Website: Indian Kill Nature Preserve
Indian Meadows
The Indian Meadow Loop Trail is a 1.5 mile moderately trafficked loop trail. Additionally, the new 2 mile Greenway Trail connects Indian Meadows (on Droms Road) to Andersen Park (on Swaggertown Road) in Glenville and provides an opportunity for hiking, snowshoeing and cross-country skiing.
Link to Website: Indian Meadows
Lisha Kill Preserve 
The Lisha Kill Preserve is a 2.2 mile loop trail that is good for all skill levels, but be aware that it can be icy in the winter. Located at 2518 Rosendale Rd. in Niskayuna, the trail features views of the kill from many angles and spots as well as small waterfalls.
Link to Website: Lisha Kill Preserve
Mohawk River State Park
Also known as Lock 7 Park, this 117 acre park features a fully operational lock on the Erie Canal. Located at 1280 Lock 7 Rd in Niskayuna. This park also contains the 7.5 mile John Brown Hiking Trail. The link below contains a map of this trail. 
Link to Website: Mohawk River State Park
Moccasin Kill Sanctuary 
The Moccasin Kill has a Red Loop trail that is a 1.1 mile moderately trafficked loop trail located near Schenectady, New York that features a river and is good for all skill levels. The trail is primarily used for hiking, walking, running, and nature trips. The entrance can be found on Crawford Rd, Schenectady, NY 12306 – Parking is very limited. 
Link to Website: Moccasin Kill Sanctuary
Mohawk-Hudson Bike/Hike Trail (Niskayuna Section Only) 
The Mohawk-Hudson Bike Hike Trail provides a unique recreational opportunity for all to enjoy. This paved trail, approximately 35 miles in length, is constructed on the original Erie Canal Towpath and former railroad grades that formed the original transportation routes in the area. The path is open to all for bicycling, walking / running, and inline skating. There are numerous access points to this trail. The Niskayuna section runs roughly from Rt. 146 (near the Rexford bridge) east to the town of Colonie. 
Link to Website: Mohawk-Hudson Bike Hike Trail
Plotter Kill Preserve
The largest preserve of the Niskayuna 9, the Plotter Kill Preserve contains 632 acres of rugged hardwood and coniferous forest in Rotterdam along the Plotter Kill, a scenic tributary to the Mohawk River. The main trail in the preserve, the North Rim and South Rim Red Trail Loop is 6.2 miles. Please exercise caution when hiking in the Preserve; the terrain is very rugged with steep slopes and ledges near the trails. Be sure to have a map of the Preserve. There are three spectacular waterfalls: the Upper Falls, Lower Falls and the Rynex Creek Falls. All are magnificent sights. In spring, there is high water and in winter, ice.