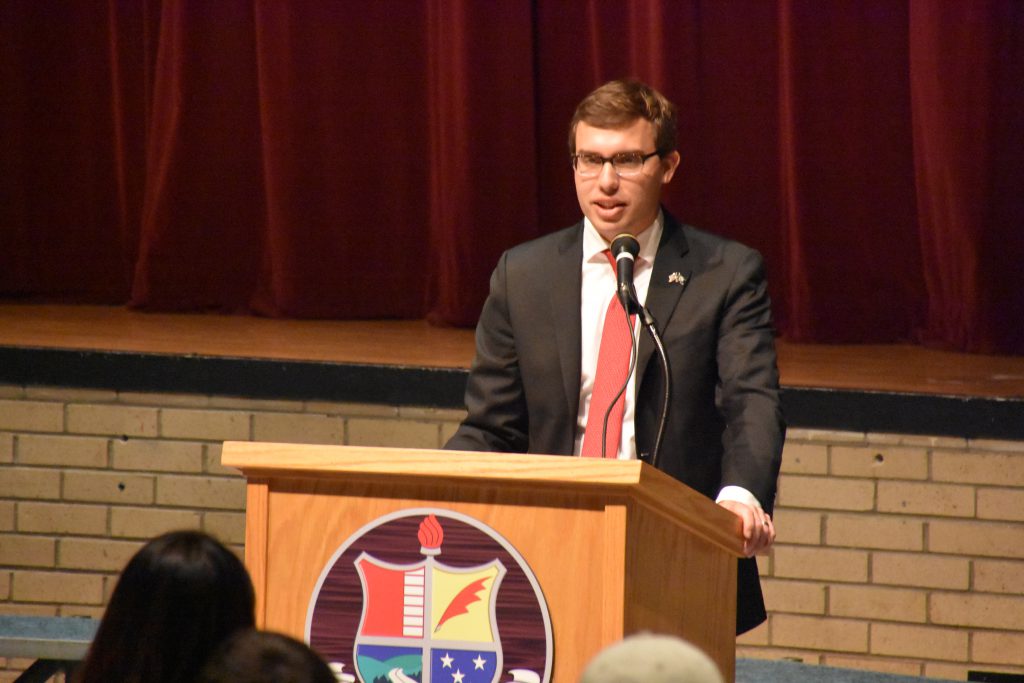 Discusses State Department career, importance of language study
Niskayuna High School graduate Seth Wyngowski's career with the U.S. Department of State has led to assignments around the globe and, on Monday, Nov. 20, it brought him back to Niskayuna on an important mission: to spend time with students.
He addressed approximately 200 students in the Niskayuna High School auditorium, sharing experiences from his career with the Department of State and highlighting the important role that language plays in his work. A member of the Niskayuna High School Class of 2008, Mr. Wyngowski is currently a Foreign Service Officer assigned to the U.S. Embassy in Lima, Peru. Previously, he worked at the Department of State in Washington and handled bilateral economic issues with Cuba during the process of normalizing relations between the two countries.
He highlighted the wide range of opportunities in international affairs, encouraged students to pursue what they love, and emphasized the importance of language skills and connecting with other cultures. He noted that his experiences studying Spanish and Latin in high school were critical as he advanced in his studies and career as a foreign service officer.
"What you are doing here at Niskayuna High School in your studies is highly relevant to this and any other career if you are interested in international affairs," Wyngowski said.
Mr. Wyngowski also has experience working at overseas U.S. missions in Brazil and Chile and has studied in Argentina and Brazil. He has done academic research, election observation, and volunteer work throughout Latin America. He speaks fluent Spanish and Portuguese and the students he will speak with include those enrolled in the high school's upper level World Language courses.
Following his remarks students asked him questions ranging from his experiences to advice as they consider their own futures.