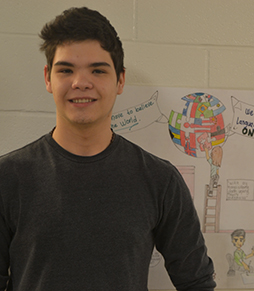 When the statewide TESOL organization announced a logo contest for its conference this coming fall, Niskayuna High School student Juan Rivera had no trouble finding inspiration – he drew on the people he's met in different places and his love of art and language.
The design he submitted pairs inspirational words and flags from across the world fitting together like a puzzle. The statewide TESOL organization – officially known as New York State Teachers of English to Speakers of Other Languages (TESOL) – recognized Juan's design with honorable mention in its logo contest.
As a result, his logo, proposal title, name, and school information will appear in the program for the organization's annual conference in November.
Juan said he wanted to communicate that, ""even though we are from different places and different cultures, we are all human and share a common reference point."
He competed against high school and college students in the contest and was thrilled to find out that his work will be included in the conference program.
"I was super excited because I got to share what I think about language," Juan said. "I felt I did my best to show other people the importance of it and I was very happy that it got recognized."
The TESOL contest joins a growing number of accolades that Juan has received in recent months. His anime art work is featured on the World Language Week bulletin board across from the library and he received an award for his accomplishments studying Chinese at the World Language Department awards night in mid-May.
Juan hopes to pursue further education and a career in the visual arts.
"I am very proud to be Juan's teacher and to have gotten to know him," said Kelly Lehmann, an English as a New Language teacher. "He enriches this school in so many ways."