Currently assistant high school principal, he will lead Special Education, student services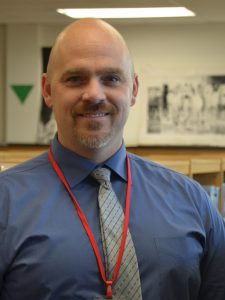 At its meeting on Monday, March 20, the Niskayuna Board of Education appointed longtime district educator and current Assistant High School Principal John Moskov as the district's Pupil Personnel Services director. In this new position, he will oversee the Special Education Department and a wide range of student support services.
"John"s leadership ability, special education experience, and familiarity with our schools and community will help him move our district forward in this new role," Superintendent Cosimo Tangorra, Jr. said. "He has earned the respect of students, parents, teachers and staff over many years, and knows how to bring people together to identify opportunities, problem-solve and support students."
The Pupil Personnel Services (PPS) position encompasses the director of special education role, which became vacant earlier this year when Lynne Rutnik became the superintendent of the Lake George Central School District. The new position also includes leadership for areas such as school counseling, social work, speech, occupational and physical therapies, and school psychologists.
Dr. Tangorra said this is the right approach to guide the district's Special Education Department into the future and ensure maximum coordination of student services. Moskov's proven effectiveness as a leader, understanding of our schools, and strong background in special education made him the right choice for the job.
Moskov joined the district as a special education teacher at the high school in 2002, and became an assistant high school principal in 2015. He has a bachelor's degree from the University at Albany, a master's in Education from The College of St. Rose and his Certificate in Educational Leadership from the State University of New York at Stony Brook.
His responsibilities as assistant principal have included working on building culture and safety, leading and supervising staff members and serving as the administrative liaison to academic program areas, including special education.
"I am honored and humbled to have been selected for this important role," Moskov said. "I will continue to grow teacher leadership, community partnerships, and collaboration amongst administration, faculty, parents and students. Through these efforts, we will advance teaching, learning and services for all students in this outstanding district."
Moskov will work closely with Interim Special Education Director Anthony Albanese as he begins to transition into the PPS role this spring.
He will officially begin in the new position on July 1. The search for an assistant high school principal will be initiated in the coming weeks.