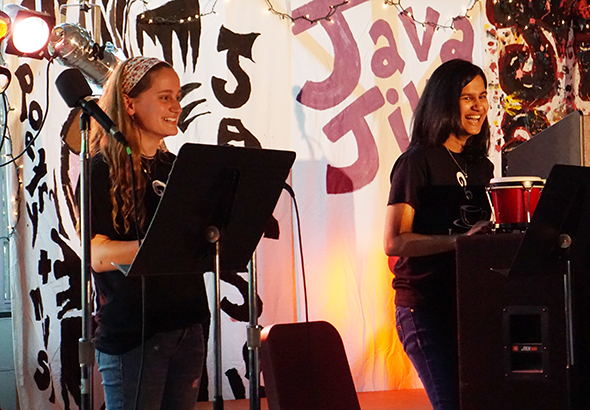 Evening raises money for Things of My Very Own
Java Jive is always a special night and between the performances on May 19 and the cause they benefited, this year was no exception. Congratulations to all of the performers, who are listed below, and the Creative Writing Club for hosting another successful night of song and spoken word.
The event doubled as a fundraiser for Things of My Very Own, which provides crisis intervention services to children and impacted by abuse and/or neglect. More than $400 was raised to benefit the organizations.
The evening was hosted by students Avanti Khare and Jillian Margolies, who introduced each performer.
Java Jive 2017 featured performances by:
Alex Mancuso
Brendan Codd
Catie Casey-Wagemaker
Simone Sussman with Lara Nakisli
Sam Sanborn
Ismail Stewart
Tyler Barhydt & Lydia Petralia with Ha Sup Lee
Molly Wolcott
M.J. Lee
Maddie McCarthy
Caitlin Joan Williams
Hibbah Iqbal & Joy Lim
Kayleigh Filkins, Rhiannon Gaylord, Sanya Mittal & Delia Ofori
Juianna Gabelman & Lizzy Lukoski
Bijan Moore
Tyler Barhydt & Jared Bour with Ha Sup Lee
Mr. Landry & Jessica Landry
Emily Baker
Jim Cesare
Tiara Brown
Marxist Theory: Jared Bour & Lizzy Lukoski
Nicole Overton
Stefani Farrell & Lizzy Lukoski
Hannah Davis, Maya Prebish & Tim Sears
Thomas Cuvillier & Malena D'Amato
Dirty Q & the Boys: Quinton Cain, Conor Graham, Jake Phillips & Vince Tricozzi
More about Things of My Very Own
Things of My Very Own, Inc. provides crisis intervention services to children impacted by extensive abuse and/or neglect. Services are also available to children who are, solely due to the lack of items necessary for sustainability, at risk of a Child Protective Services intervention. Our goal is to keep children together with non-abusive family members, and out of the foster care system, whenever possible. www.thingsofmyveryown.org
Java Jive would like to thank:
The Creative Writing Club
Niskayuna High School Cafeteria Staff
Niskayuna High School Custodial Staff
Niskayuna High School Music Department
Hannaford
Niskayuna Co-op
Price Chopper
Shop Rite
Mr. Bloom
Ms. Farrell
Nick Forero
Ms. Ihnatolya
Ms. Johnson
Ms. Jones
Ms. McCarty
Mr. Peters
Mr. Pierson
Ms. Richard
Ms. White
Ms. Winkler
Java Jive Advisors:
Ms. Ihnatolya and Ms. White
A special thanks to Mr. Warren for his time and equipment.
This evening would not be possible without his generosity!