Letter to families from the new director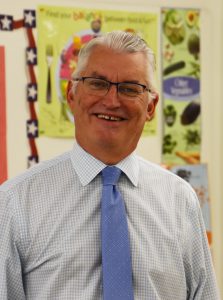 Dear Niskayuna Families:
I hope the school year is off to a smooth start for you. I'd like to take a moment to introduce myself as the new director of the Food and Nutrition Department.
New this year, the district is partnering with Capital Region BOCES for the management of the department, with the belief that working cooperatively will promote best practices and a high level of service in a cost-effective manner. I couldn't agree more. This is just one way Niskayuna is a leader in shared services.
Prior to coming to the district, I served as the food service director for the Albany County Department of Residential Health Care Facilities. I have a variety of public and private sector experience, and bring new ideas and an openness to your feedback and suggestions to the district.
Menu Changes and New Items
All of our schools will see a variety of changes to the breakfast and lunch menus this year, as well as a number of new items sold in the cafeterias. Some of the new items being sold include:
Elementary/Middle school: Salad served daily, sandwich of the day
High school: Battenkill Creamery chocolate, mocha and whole milk, Argyle Cheese Farmer cheese curds, yogurt drinks and Greek yogurt, hot and iced coffee, pizza of the day, new salads and sandwiches
District-wide: Almond milk, soy milk, fresh veggies and hummus and breakfast sandwiches
Snack Charging
We will no longer be allowing students to charge individual snack items if they do not have money in their account. If your child would like to purchase a snack item, it will be necessary to pay with cash or have money on a student account. More information about MySchoolBucks meal accounts
Free and Reduced Meal Applications
Applications for Free and Reduced meals were sent home to families in August and are available here. If you think your family might be eligible, I encourage you to review this information. Applications can be submitted at any time during the year.
In closing, I'd like to emphasize that I am accessible to you and seek your questions and suggestions about food and nutrition in the district. Please contact me anytime at (518) 377-4666, ext. 50730 or jbradt@niskyschools.org.
Sincerely,
Jeffrey Bradt
Director of Food and Nutrition