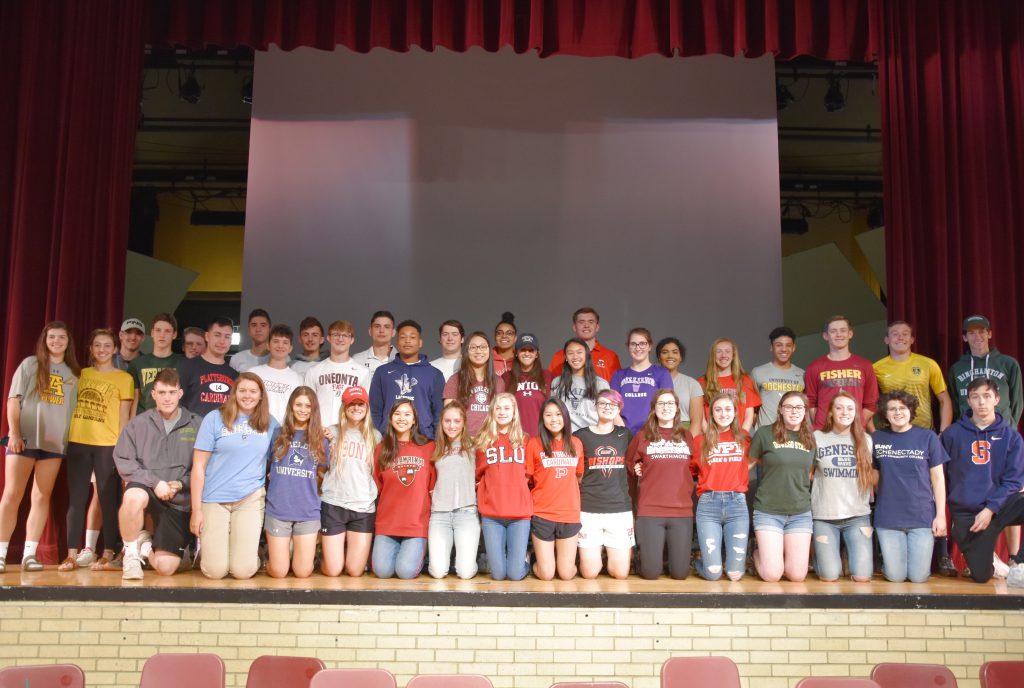 They have honed their skills on Niskayuna's playing fields, courts, track and pool, at the bowling alley and on the river. And next year, they will compete at the next level – intercollegiate athletics – while continuing their work in the classroom.
On Wednesday, May 22, the Warrior Project recognized members of the Class of 2019 who will participate in college athletics at any level next year – all 56 of them! This represents 15 percent of the graduating class. The Warrior Project is a club made up of student-athletes that promotes a healthy lifestyle and school spirit.
In welcoming family members, coaches and other guests to the event at the high school, Principal John Rickert noted that the district traditionally holds signing ceremonies for student-athletes who will play at the Division I level. However, he said the Warrior Project approached him this year about expanding the recognition, which resulted in the May 22 event.
Students who will participate in Division II and III athletics next year were introduced, with their college logo displayed in the background. After signing a ceremonial letter of intent, they were joined by the students who signed Division I letters earlier this year on the auditorium stage for a whole group photo (above).
Congratulations to the following:
Claudia Agostino, College of St. Rose, Women's Lacrosse
Gabrielle Alston, SUNY Fredonia, Women's Soccer
Nick Armstrong, Hudson Valley, Men's Bowling
Hannah Aronowitz, Bentley College, Women's Lacrosse
Jurgen Bach, Union College, Men's Lacrosse
Hannah Bachert, Rhode Island, Women's Rowing
Dan Brownell, St. Michael's, Men's Lacrosse
Isabel Bushway, Williams, Women's Swimming
Matthew Chao, Princeton University, Men's Diving
Drew Collins, Southern New Hampshire, Men's Lacrosse
Annabelle Conover, University at Albany, Women's Lacrosse
Michael Dean, Castleton State, Men's Lacrosse
Marty Dolan, Binghamton, Men's Track & Cross Country
Jake Dominikowski, Oneonta, Men's Lacrosse
Lisa Dong, University of Chicago, Women's Swimming
Julia Doriski, Roberts Wesleyan, Women's Soccer
Tyler Ferguson, Plattsburgh, Men's Lacrosse
Patrick Frank, Vermont, Men's Cycling
Matt Frankel, College of Saint Rose, Men's Lacrosse
Nick Fraterrigo, Le Moyne College, Men's Lacrosse
Kaitlyn Gerstler, SUNY – Oswego, Women's Swimming
Christian Grigas, Ithaca, Baseball
David Guest, Oneonta, Men's Lacrosse
Sydney Gushlaw, Oneonta, Women's Lacrosse
Jeffrey Halusic, Cortland State, Football
Cassidy Harvey, Westfield State, Women's Lacrosse
Cole Hedden, St. John Fisher, Baseball
Madeleine Hessler, James Madison, Women's Track & Cross Country
Tessa Hilt, St. Lawrence, Women's Swiming
Jimmy Joyce, Holy Cross, Men's Soccer
Griffin King, Brown University, Men's Lacrosse
Kristina Koes, St. Lawrence, Women's Track
Charlotte Kokernak, Worcester Polytechnic Institute, Women's Track
Alexa Lashway, Ohio Weslyan, Women's Lacrosse
Julia LeBlanc, Swarthmore, Field Hockey
Samantha Mazza, SUNY Plattsburgh, Cheerleading
Sydney McPartlon, Union College, Women's Lacrosse
Grace Minkin, University of Maine, Women's Track & Cross Country
Gabriel Nish, Le Moyne College, Men's Lacrosse
Tyra O'Meally-Turnbull, Daemen College, Women's Basketball
Nicole Overton, Cornell University, Women's Rowing
Merjan Ozisik, Syracuse University, Men's Soccer
Julian Pigliavento, SUNY – Plattsburgh, Men's Lacrosse
Richie Quinn, St. John Fisher, Football
Jane Reffelt, American University, Women's Lacrosse
Peyton Reihs, Southern New Hampshire, Women's Lacrosse
Jon Rubonis, Farleigh Dickinson, Football
Tim Schaffer, Cortland, Baseball
Ava Schroeder, University of New Hampshire, Women's Lacrosse
Alexa Smith, St. Lawrence, Women's Track
George Tsakalakos, Oxford College, Men's Soccer
Jordan Van Buren, Cobleskill, Men's Lacrosse
Gina Voris, Schenectady CC, Women's Bowling
Aaron Whitley, Rochester, Football
Chloe Willson, SUNY – Geneseo, Women's Swimming