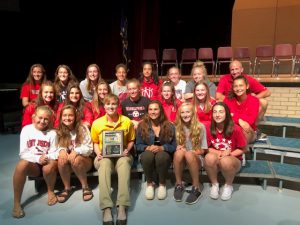 Former Niskayuna graduate inducted in the new york state high school girls soccer hall of fame.
Kristin Armstrong, nee Scharphorn, a 1999 Niskayuna graduate, was inducted into the New York State High School Girls Soccer Hall of Fame on Saturday.
Starting as an 8th grader, Armstrong played in 113 Varsity soccer games for Niskayuna, with a record of 95 wins, eight losses, and ten ties over that time. Armstrong is second on the state record list for shutouts with 74.
Over her five seasons on varsity, she played every minute of every game and helped Niskayuna win Class A NYSPHSAA titles in 1994, 1995, and 1998. She went on to play four years at Division 1 Duquesne University, where she started and captained the team in her junior and senior seasons.
Armstrong is currently a middle school science teacher in the Bethlehem Central School District.