Fagan to address Class of 2018 at graduation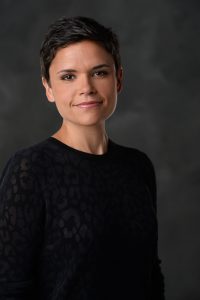 Kate Fagan, a 1999 Niskayuna graduate, will enter the Niskayuna High School Hall of Fame at this year's commencement exercises on Thursday, June 21.
Fagan is a columnist and feature writer for ESPN.com and ESPN The Magazine. She is also a regular panelist on ESPN'S Around The Horn and can also be seen on Outside The Lines and E:60. Previously, Fagan spent three seasons covering the 76ers for The Philadelphia Inquirer. She is the author of The New York Times bestseller, What Made Maddy Run, and The Reappearing Act, and co-host of the ESPNW podcast, Free Cookies. Fagan is a highly recognized and respected role model for women's issues and mental health awareness.
Fagan graduated from Niskayuna High School in 1999 as the school's all-time leading scorer in its basketball program and went on to play for the University of Colorado. While at Colorado, she earned first team all-academic honors and led her team to four consecutive NCAA tournament appearances.  Fagan also set a Big 12 Conference Record by making 44 consecutive free throws during the 2002-2003 season. She later went on to play two seasons with the Colorado Chill of the National Women's Basketball League.
"We're happy to welcome Kate back to Niskayuna and proud that she could be here to speak with the Class of 2018," said Niskayuna High School Principal John Rickert. "Kate is another a great example of how successful our graduates have been and we look forward to welcoming her into the Hall of Fame, and congratulate her on this honor."
The High School Hall of Fame was established in 1983 to honor graduates who have distinguished themselves in a specific field of endeavor, in civic affairs, or in humanitarian affairs or other activities that merit special recognition. A committee of citizens, students, faculty and administrators selects the inductee from nominations submitted by the public each year.
Fagan will be the 65th Niskayuna High School graduate to enter the Hall of Fame. Past inductees include a Pulitzer Prize-winner, a U.S. attorney, humanitarians, decorated service members and leading doctors, computer scientists, artists, and more.