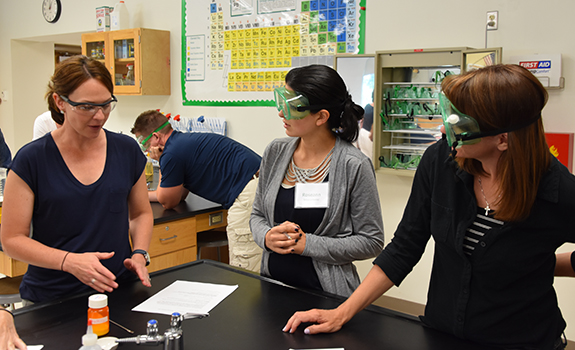 Professional development sessions led by High School teachers
In one Niskayuna classroom on Tuesday, July 12, elementary teachers debated whether a reaction was a physical or a chemical changes. In another, they calculated density.
It was the first of a three-day professional development series for elementary teachers across the region, touted as a ""deep dive" into the content, skills and ideas forming the basis for the state's new draft science standards. The sessions were sponsored by Capital Region BOCES and the Capital Area Science Supervisor's Association, and hosted by Niskayuna High School.
The focus of the trainings was to build the content knowledge in science for elementary teachers, who cover many different subjects over the course of a day or a week in their classrooms.
"It was a great opportunity for this to be offered as a way for us to explore pure science concepts," said Stephanie Venerus, a fourth grade teacher at Glencliff. "We have been doing it on our own as needed, but not as in-depth as these three days have been."
"This will be great,"" said Heather Wood, a fourth grade teacher in Fort Ann. "I feel like I can take a lot of this back and use it in my classroom."
The sessions focused on three key areas – matter and its interactions; energy and energy transformation; and astronomy. They were led by six high school teachers in all, five from Niskayuna High School – Jill Paquette, Tom Delancey, Joe Samascott, Brandon Hakulin, and Jeremy Lundy – and one from Ballston Spa.
Elementary teachers learned about phase changes, tackled kinetic versus potential energy by building their own roller coasters, and constructed solar arc models.
Venerus and Glencliff third grade teacher Erin McMahon, said that the professional development sessions helped them gain a greater comfort level with science terms and concepts. This will help as they work with the standards and design activities to introduce the concepts to elementary students.
They also appreciated the opportunity to learn alongside teachers from other elementary grades and to make connections with high school teachers that could lead to collaboration across levels in the future.
Venerus and McMahon called the sessions an "invigorating" step in the evolution of science instruction. They believe a greater focus on science will be welcomed by their students.
"My class naturally loves science when we do it," McMahon said.
"It's so exciting and so motivating for students," Venerus said.
More about the draft standards
The draft learning science standards are part of a statewide strategic plan for science intended to "enhance science education, improve student achievement of the New York State science learning standards leading to career and college readiness and a scientifically literate population," according to the State Education Department.
The standards could be brought to the New York State Board of Regents this fall for final adoption. Local implementation would begin in the 2017-18 school year along with the beginning of assessment development.