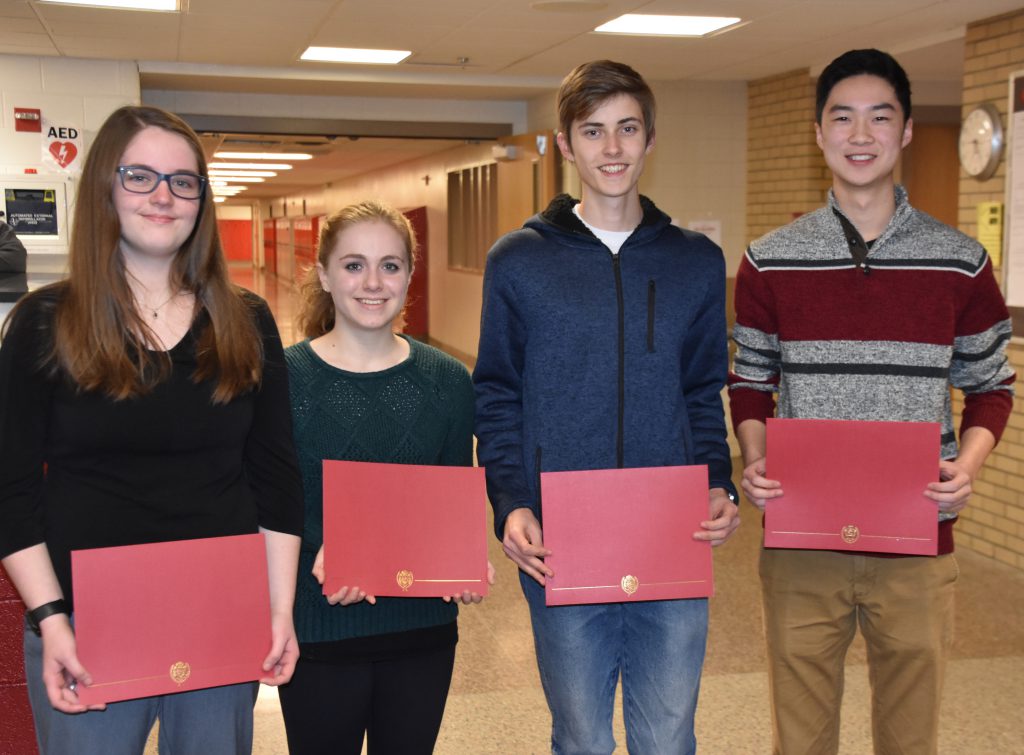 Prior to its Dec. 12 meeting, the Board of Education held a ceremony to recognize the National Merit Scholar Contest Semifinalists and a National Merit Award recipient from the Niskayuna High School Class of 2018.
Congratulations to: Skylar Litz, Johanne I. Friedman, Bryan Zhou and National Hispanic Scholar Gabriel A. Kammer.
Each of the students was introduced by High School Princpal John Rickert at the ceremony, held in the Crossroads area of the High School. Mr. Rickert highlighted this accomplishment, but their overall academic achievements, and their contributions to the school in the classroom and many clubs and activities. The Middle School Jazz Band provided the entertainment for the assembled guests.
"I would like to extend our most sincere congratulations to these 4 students for all of their respective accomplishments and wish our Semifinalists the best of luck as they continue in the process towards becoming National Merit Finalists," Mr. Rickert said.
National Merit Scholarship and National Achievement Scholarship semifinalists are among the top high school seniors in the country based on their scores on the PSAT administered in the fall of 2016. An additional 15 students reached commended status in the competition this year.
Each Niskayuna High School graduating class has had at least one National Merit Semifinalist. This year's honorees bring the total number in school history to 546.
To become a finalist, semifinalists and his or her high school must submit a detailed scholarship application, in which they provide information about the semifinalist's academic record, participation in school and community activities, demonstrated leadership abilities, employment, and honors and awards received. Finalists are announced in the winter, scholarship winners are announced in the spring.
Best of luck to our Niskayuna High School students!