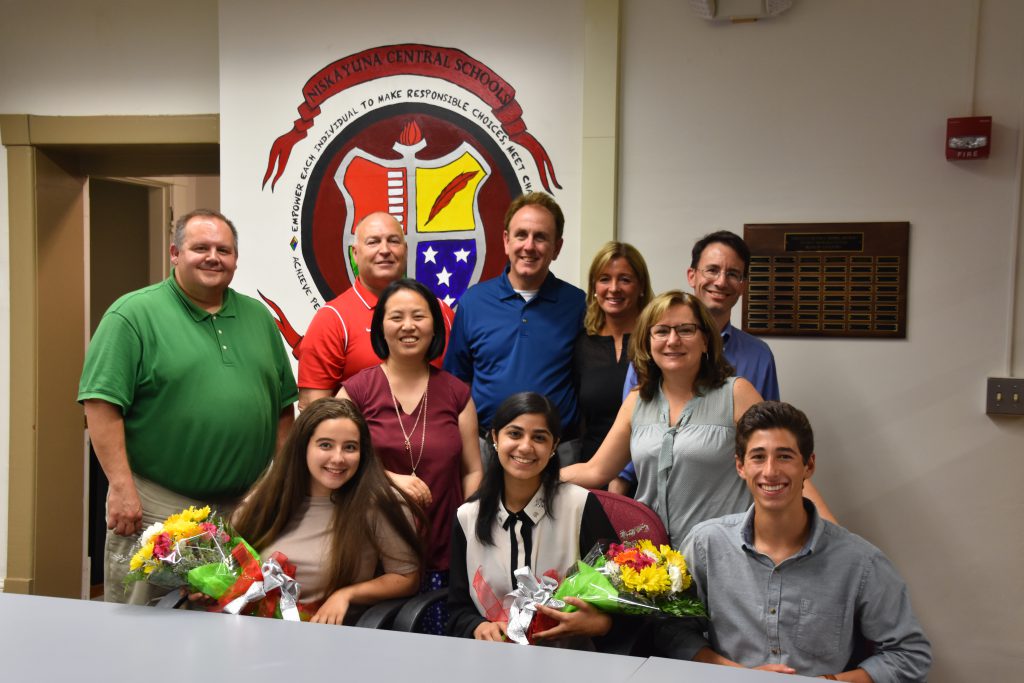 It was an evening of farewells – and a welcome – at the Board of Education table on Tuesday, June 19, as outgoing Board member David Koes and senior student representatives Ambreen Aslam and Mariah Mizbani were recognized and new student representatives were appointed.
Board President Rosemarie Perez Jaquith presented Mr. Koes with a plaque that listed his contributions to the district over many years, from serving on the Full-Day Kindergarten Implementation Team through the PTO Council to his Board service. "Dave has literally given hundreds of hours of his time in service to this community," she said. "I've heard it said that volunteers are not paid, not because they are worthless, but because they are priceless. Dave, you are truly PRICELESS and you will be missed."
Koes did not seek another term on the Board in this May's election.
In honoring Mariah and Ambreen for their service as student representatives, she said, "You have become leaders. You have become outstanding young adults. You've become our colleagues—as we have come to value and depend on your perspective and input as we conduct board business."
Board members echoed Mrs. Jaquith's appreciation for the service of Mr. Koes and their time with Mariah and Ambreen.
At the meeting, incoming juniors Anjalee Modasra and Reem Djebli were appointed as the new student representatives. They will officially begin in their roles, joining current Class of 2019 representative Jonathan Romano, at the Board's annual organizational meeting on July 2.
At that meeting, Noney Grier, who was elected to the Board in May, will begin her term in office.