Make a difference in our community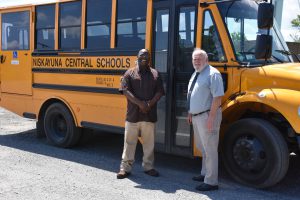 Are you a safety-minded person who enjoys children and making a difference?
Are you looking for work that follows the school calendar, with holidays off?
This may be a great position for you. Part-time bus drivers start at $18.55 per hour. Paid work as a substitute bus monitor is available while qualified applicants are trained to meet the requirements of becoming a school bus driver.
Bus drivers must be 21 years old and have had a New York State drivers license for three years. Bus drivers need a Class B commercial drivers license (CDL) with an S endorsement. You must pass a written test at the DMV prior to training and the road test. We will pay for training once the CDL is acquired.
We operate a standardized, well-maintained bus fleet with low milage. You would be part of a skilled, highly-motived and dedicated team. Consider joining us.
Please contact Transportation Director Bill Garrison at (518) 370-0160 or bgarrison@niskyschools.org for more information.