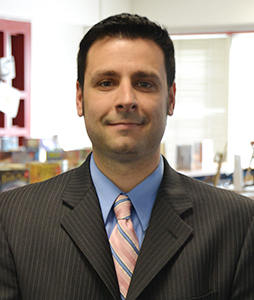 At the Board of Education meeting on Tuesday, May 23, Anthony Malizia was appointed to the position of Niskayuna High School assistant principal. Malizia is currently a hall principal at Bethlehem Central High School, where he has provided leadership and support for staff and students in a variety of areas.
Malizia will fill the high school assistant principal position that is opening as the result of John Moskov's appointment as the director of pupil personnel services earlier this year. He will start in the district on July 1.
As a hall principal at Bethlehem, Malizia has helped oversee the administration of the Code of Conduct, master scheduling, the school's safety committee and a variety of initiatives designed to enhance school culture and strengthen support for students.
Niskayuna Superintendent Cosimo Tangorra, Jr., said that Malizia's skills, experiences and record at Bethlehem made him the right choice for the position. Interviews of candidates for the job were conducted by a team that included district and high school administrators, high school faculty and staff, Board of Education representation, parents and students.
Malizia has a bachelor's degree from Siena College, a master's in education and certificate of advance study from The College of St. Rose, and certification as a school building leader.
"Anthony promises to be a collaborative, forward-looking instructional leader who is focused on building relationships that support student success and opportunity," Dr. Tangorra said. "We look forward to him joining our high school leadership team and we welcome him to the district."
A Niskayuna resident, Malizia began his career as a business teacher in the Burnt Hills-Ballston Lake Central School District in 2007 and began teaching in Bethlehem in 2009. He became a hall principal in 2013.
"I am grateful and honored to have been selected as assistant principal at Niskayuna," Malizia said. "The district has a tradition of excellence and I am going to do everything I can to make sure students get the very best education possible. I'm excited to work here and looking forward to getting to know the faculty and staff, students and parents."
The Niskayuna High School leadership structure includes a principal and two assistant principals, each of whom have responsibility for particular grade levels, areas of the academic program, and areas of student services and school operations.