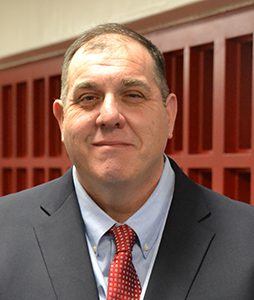 Anthony Lento, a business owner with extensive experience in construction and project management will be the district's next director of facilities. He was appointed to the position at the Board of Education's meeting on Monday, March 20.
Lento is the owner and operator of PowerHouse Electric and brings to the district more than 20 years of experience as an electrical contractor working with businesses, local governments and nonprofits. His background also includes project management, plumbing, carpentry and a variety of other building trades.
Lento impressed the interview committee as an individual with the right combination of practical expertise, interpersonal skills, and leadership ability for this position. The committee included central office administrators and representatives of O&M, Food Services and Athletics – those that work most closely with the director of facilities and the department.
Lento's first day in the district will be Monday, April 10. He is looking forward to getting to know our buildings and grounds, Niskayuna staff and community.
"Anthony brings significant experience as a business owner, a contractor and overseeing projects to our district," said Superintendent Cosimo Tangorra, Jr. "Our stewardship of school facilities and providing students with safe, clean and modern educational settings is very important to us. We welcome Anthony to our team and look forward to his leadership."
The O&M staff includes approximately 50 full- and part-time staff members between custodial staffing, maintenance mechanics and the grounds crew. They care for about 950,000 square feet of interior space and approximately 210 acres across all school buildings.
"I am excited and honored to join the Niskayuna Central School District," Lento said. "I look forward to getting to know the staff as well as the members of the community. I am eager to help the district move forward in accomplishing its goals in relation to buildings and grounds."
He joins the district at a time when officials are focused on improving facilities. In December, voters supported a $5.6 million capital project in December that focuses on health and safety projects across the district. A longer-term planning process will ultimately address outstanding work and facilities improvements needed to advance our academic programs.
The O&M leadership position has been open since last summer, when the contract with Aramark Corp. concluded.
Dr. Tangorra thanked O&M staff members for their work and patience during this period. He also recognized Director of Business & Finance Carrie Nyc-Chevrier for taking on the additional role of providing leadership for the department over the last several months as the district searched for a director.