Global entrepreneur to address Class of 2017 at graduation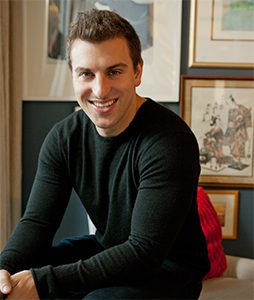 Brian Chesky, a 1999 Niskayuna graduate who helped revolutionize the travel industry and create a global community in the process, will enter the Niskayuna High School Hall of Fame at this year's commencement exercises on June 22.
Chesky is co-founder, CEO and Head of Community of Airbnb, an online marketplace for people to "list, discover and book unique accommodations around the world," in the words of the company.
He started Airbnb with Joe Gebbia and Nathan Blecharczyk in 2008. Today, its mission is to create a world where people feel truly connected to local cultures through unique travel experiences. Airbnb has served more than 165 million guests and has more than 3 million listings worldwide.
Chesky drives Airbnb's vision, strategy and growth. He has been named to Fortune magazine's "40 Under 40" list, and in 2015 Time magazine named him one of the "100 Most Influential People" of the year. This past year, Forbes Magazine named Chesky one of its Global Game Changers.
He is also well known for his global outreach work and charitable efforts. President Obama appointed Chesky as a Presidential Ambassador for Global Entrepreneurship in 2015 and in that role he traveled to Cuba and Kenya to support local entrepreneurs and start-ups.
He is also signatory of the "Giving Pledge," pledging to donate the majority of his wealth to charity, and has championed Airbnb's longstanding efforts in assisting with disaster relief, helping to address the global refugee crisis, and supporting local causes that improve communities all around the world.
"We are proud to call Brian a graduate and of the fact that Niskayuna is in some way a part of his remarkable story of success, innovation, and global connectivity and goodwill," said Niskayuna High School Principal John Rickert. "We look forward to welcoming him into the Hall of Fame, and congratulate him on this honor."
The High School Hall of Fame was established in 1983 to honor graduates who have distinguished themselves in a specific field of endeavor, in civic affairs, or in humanitarian affairs or other activities that merit special recognition. A committee of citizens, students, faculty and administrators selects the inductee from nominations submitted by the public each year.
Chesky will be the 64th Niskayuna High School graduate to enter the Hall of Fame. Past inductees include a Pulitzer Prize-winner, a U.S. attorney, humanitarians, decorated service members and leading doctors, computer scientists, artists, and more.