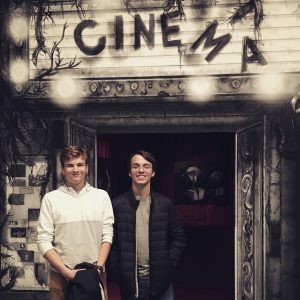 Sebastian Stone, who graduated from Niskayuna High School in June and was previously a student in Mrs. Stephanie Palazeke's Advanced Studio in Film program has received two accolades for for his short film, Knickknack, in the 2020 Rod Serling Film Festival, which is based in Binghamton. He won both of the 2020 Special Honors: "Spirit of Serling Award" and "Best in Show."

In Stone's words, "Knickknack is the chilling tale of what happens when an unspeakable evil locked away centuries ago is unknowingly let loose by a young boy, Felix. As he slowly comes to understand what exactly he's dealing with, Felix desperately tries to ward off the dark force he's invited into his home, but he may find that its power is too great for him to ever overcome." This short film is cited as Stone's first attempt at creating a horror film.
As a recent graduate, Stone is going off to college to pursue his interests in writing. He hopes to continue making movies. His interest in filmmaking began before he enrolled in Studio in Film courses. He founded his own production company, LAST Productions, while making video productions for his Global History course. Fellow filmmaker, Erik Mavian, who stars as Felix in Knickknack, is the other half of LAST Productions, working with Sebastian to create thoughtful, engaging, and relevant films.
The Rod Serling Video Festival launched in 1995 and has welcomed hundreds of entries throughout the years. In 2014, Larry Kassan retired as Festival Founder & Director. WSKG Public Media assumed coordination responsibilities and the project was renamed.
This Festival is held in of honor Rod Serling and his work, which has had a lasting influence on the television industry and media creation. The Festival seeks to inspire the next generation of filmmakers.
The Festival is made possible by the partnership with Binghamton City School District's Rod Serling School of Fine Arts, Broome County Forum Theatre, New York State Media Arts Teachers Association and the Serling family.
These films premiered via web & social media throughout August 2020. More information on the Rod Serling Film Festival